FTC disclaimer: This post contains affiliate links and I will be compensated if you make a purchase after clicking on my link.
You probably know about Dropbox, but what you don't know that it is a great tool to backup WordPress blog. WordPress backup to Dropbox is a free service while most hosting companies charge for your WordPress backup and installation.
In today's world, security is most important and even security for files and database of your WordPress blog. Regular WordPress backup to multiple site or devices will give you peace of mind that your website is safe and secure.
Dropbox is an excellent tool for sharing and synchronizing files. It can be installed on different devices with different operating systems. Dropbox is a free service that lets you bring your photos, docs, and videos anywhere and share them easily.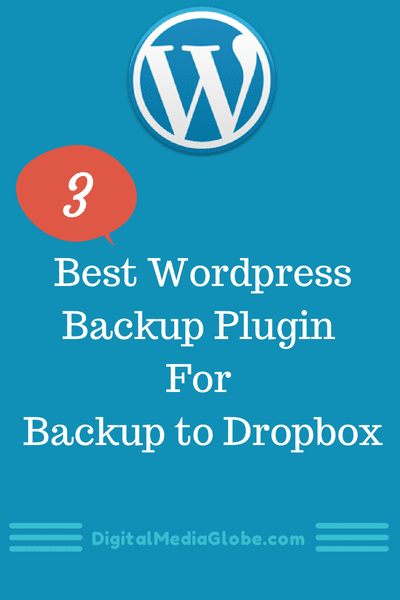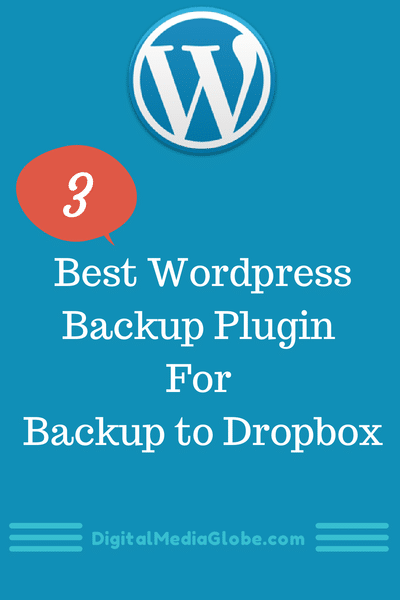 3 Most recommended WordPress Backup plugin for backup to Dropbox
UpdraftPlus is a top rated WordPress plugin to backup and restoration service. UpdraftPlus allows you to backup your files and database to Dropbox and also to Dropbox like services such as Amazon S3, Google Drive, Rackspace Cloud, DreamObjects, FTP, SFTP, SCP, WebDAV, OpenStack Swift, Bitcasa and email and restore with a single click.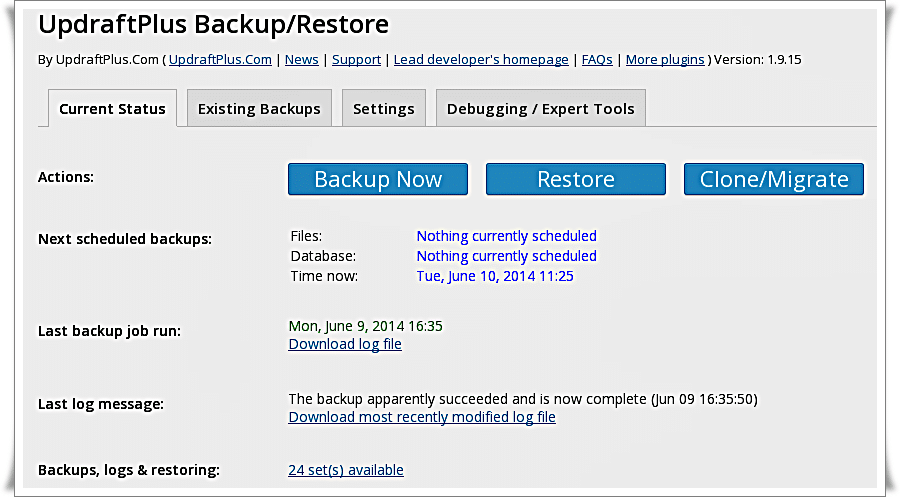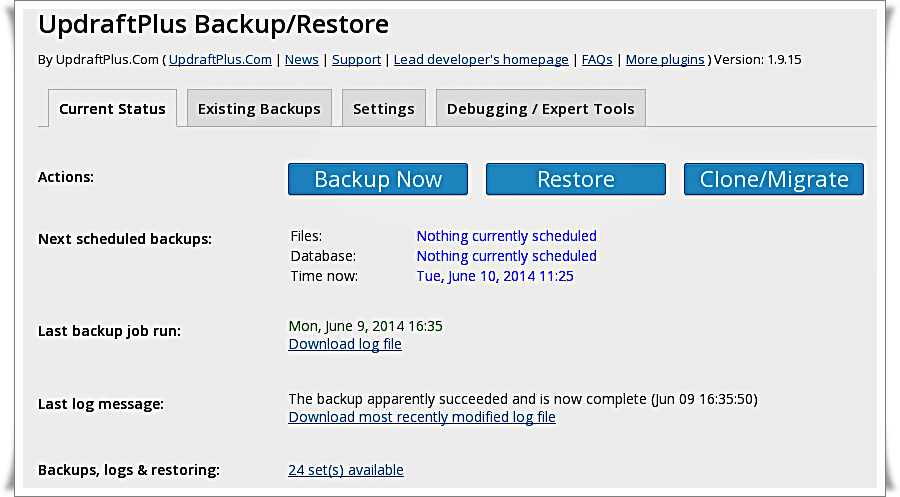 Why to use UpdraftPlus for WordPress Backup
1. It supports so many services such as Amazon S3 (or compatible), Dropbox, Google Drive, Rackspace Cloud Files, Google Cloud Storage
2. Quick restore both for file and database backups is an added advantage
3. UpdraftPlus also restores backup sets from other backup plugins such as BackupWordpress, BackWPUp, Simple Backup but it available for premium users
4. If uploads failed, then it will automatically resume/retried
5. While large sites can be split into multiple archives
6. It also download backup archives directly from your WordPress dashboard
WordPress Backup to Dropbox function exactly as its name indicates. You can define what and where you want your backup to be stored within Dropbox and on your server. It helps you to choose what files or directories to include or exclude from the backup.  This plugin uses OAuth so that the details of your Dropbox account are not stored with the plugin.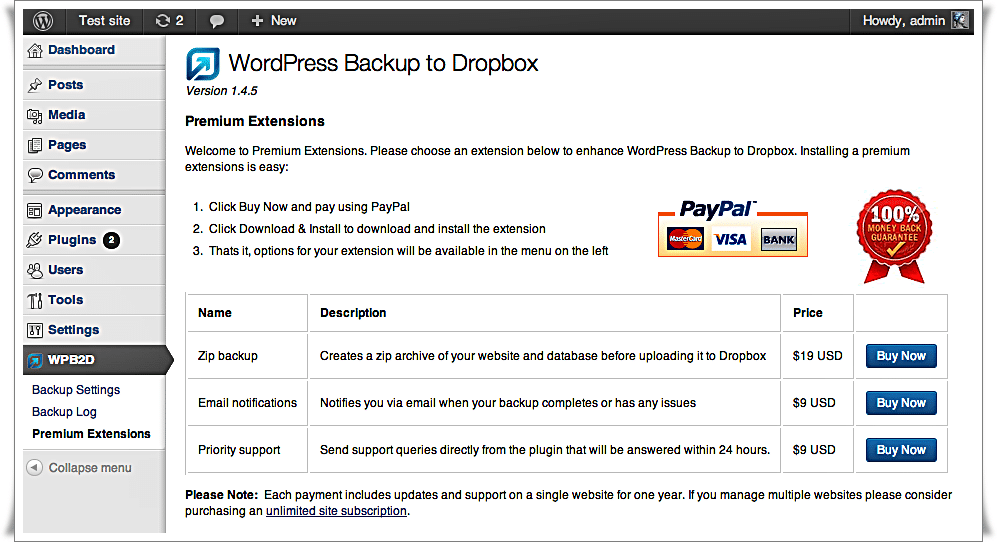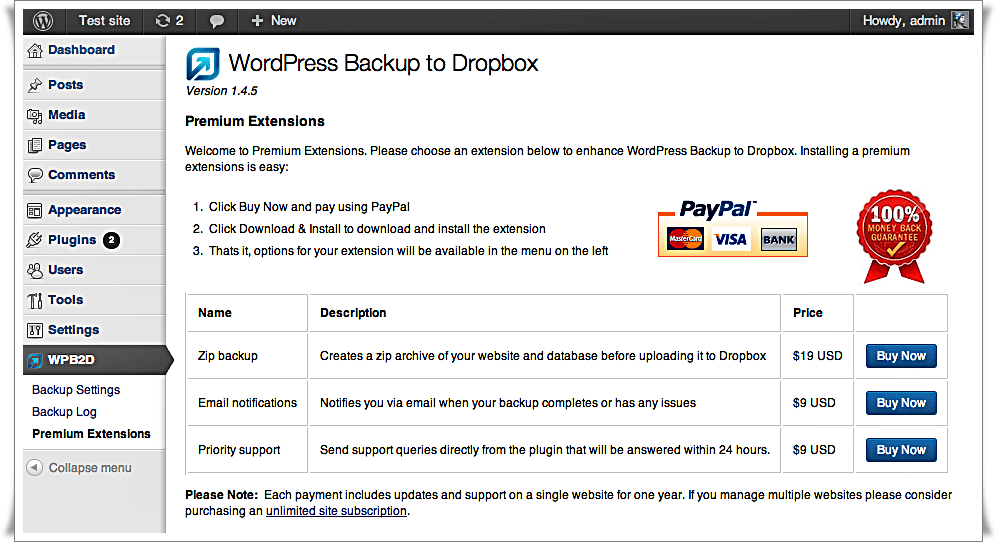 Why to use WordPress Backup to Dropbox

plugin

for WordPress backup
1. This plugin attempts to recover from an error that may occur during a backup where backup process goes away for an unknown reason.
2. It also backup your WordPress database
3. Flexibility to include or exclude what to backup or what not.
5. You can even choose a day, time and how often you wish your backup to be performed
The BackWPup Free is also one of the best plugins available to backup your WordPress blog. It can be used to save your complete installation, including /WP-content/ and push them to an external Backup Service, like Dropbox, S3, FTP and many more. You are able to easily restore an installation with a single backup .zip file. It offers tools to optimize and repair your WordPress database.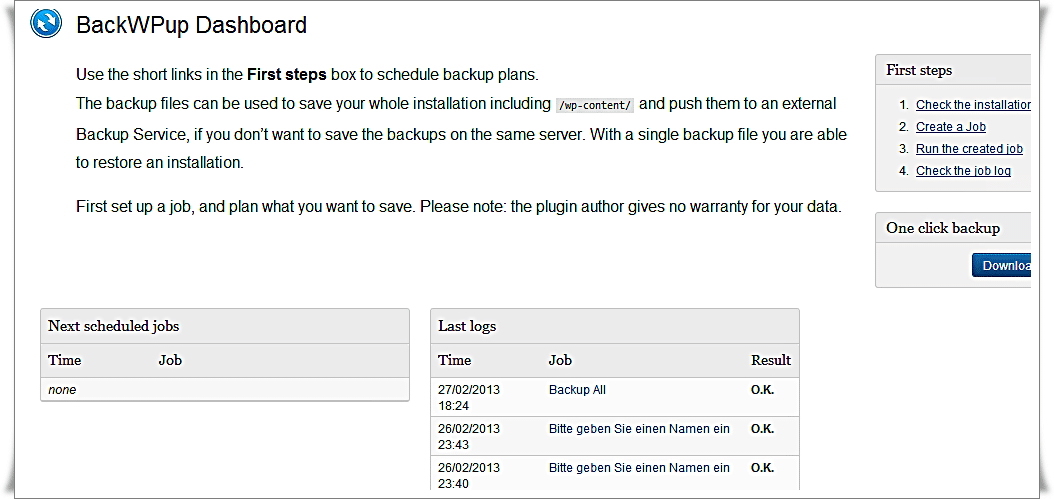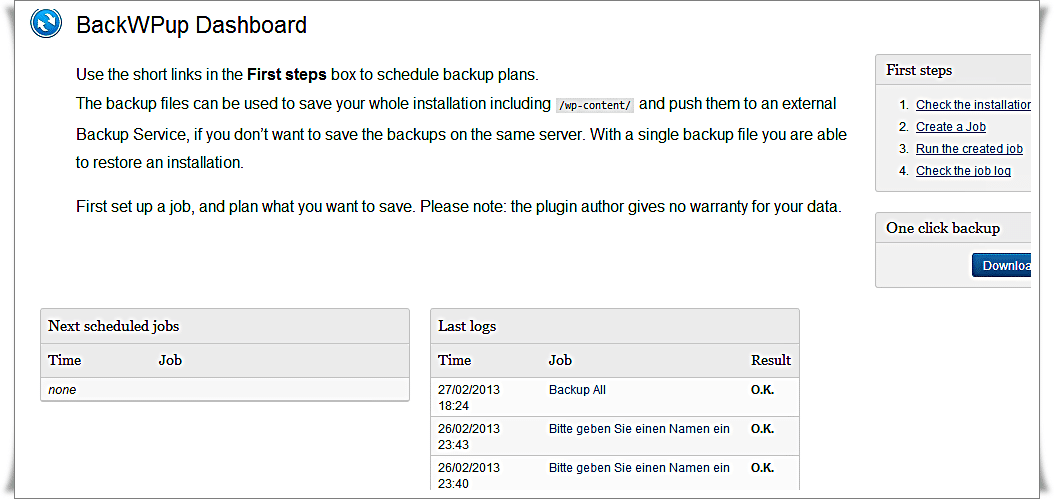 Why to use BackWPup Free plugin for WordPress backup
1. BackWPup Free is one of the best WordPress plugin with nearly 1,000,000 downloads and most friendly to tweak the site archive
2. It optimizes, check and repair database
3. It backups, file in different formats such as zip, tar, tar. gz, tar.bz2
4. It stores backup to a directory, FTP server, Dropbox, S3 services, Microsoft Azure, RackSpaceCloud, SugarSync.
5. It sends logs and backups by email and also multi-site support as a network admin
Conclusion
It is very important to perform backups of your WordPress blog, it doesn't matter whether it is already a practice of your hosting company.
You should always try not to be dependent on third-party services.
You should also keep in mind to configure your plugins properly and do verify the copies whether there any problems exist in the archives or not.
In some tests you may face some problems with some routines or setup, sometimes with errors when connecting to the database that prevented the full backup of the database.
I want to know if you have ever used these or other WordPress plugins for backup. Please tell us your experience and especially the problems you encounter as comments.