Finding a good hosting provider is never an easy cake.
Every hosting company tosses the coin boasting of uptime guarantee, money back guarantee and what not.
But what is important to consider in any hosting company is the reliability factor in the long run and how well its keeps your website up and running well.
Uptime and tech support is another prime area to consider.
The JustHost review will primarily focus on these areas and will discuss whether JustHost hosting has done justice or not.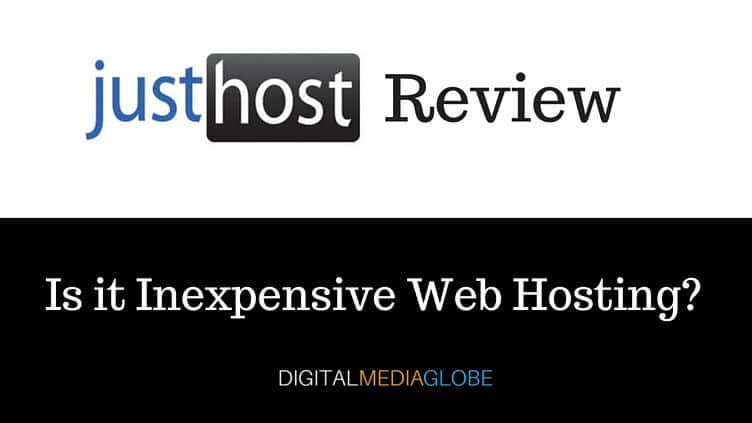 If you're having a medium to large size business or blog, looking for more reliable and good performance web host, go with SiteGround.  You just have to pay $3.95 per month as there is 60% Offer going on! Still unsure, you can read my Siteground review here.
JustHost Review
JustHost – Who They Are?
It is a UK based company founded by Chris Phillips in 2008 but currently under the flagship of Endurance Group of Companies. They have more than 2000 servers running and data centers at Chicago, Illinois and have their headquarters at US, UK and Australia.
Who will benefit the most with JustHost?
Anybody, who is looking for a budget friendly web hosting options and an unlimited hosting package
Who needs only shared hosting plans or may be a reseller hosting plans for their websites
Use JustHost Coupon Code "DMGJUSTHOST" Get Upto 85% OFF
Impressive Features of JustHost:
JustHost review will primarily focus on JustHost Freebies, JustHost standard control panel features, Pricing, Hosting Packages, Customer Support and finally their much hyped money back policy.
The unlimited tag:
Unlike other hosting companies, JustHost offers unlimited bandwidth, unlimited transfers, unlimited email accounts and unlimited domains transfer.
So if you are a person running multiple websites JustHost can be one good choice for hosting since there is no limit for how many domains you have and you can run everything in one single JustHost account.
Easy to use Control Panel:
Their CPanel makes it an easy and simple tool to use the website.
Their administration panel is more user friendly (easy access to DNS, name servers, Google apps, webmail, and add-on domains).
Also your payments and accounts are managed with a separate login (Another separate control panel)
In case you opt for reseller hosting, get access to a WHM tool for managing, creating and deleting individual hosting account of the reseller clients. They also get a free ClientExec to operate their invoice and billing.
Use JustHost Coupon Code "DMGJUSTHOST" Get Upto 85% OFF
Hosting Plans and Package:
JustHost sticks to basic hosting options (their USP) .It is called Just Plan and they charge $6.09 monthly.
This monthly fees is pretty much affordable and top it up with free domain names, free domain transfers, free email set up, free email addresses, to name a few. (It is an incredible deal at such a low price).
They don't provide cloud hosting and only shared hosting (As they mostly aim at a budget hosting), which turns out to be an ideal choice for small ecommerce firms and blogs. Their start up plan package has more than enough features (mostly unlimited).
Their pricing is slightly on the higher side for short terms and economical for longer duration. (Almost every hosting company has the same strategy nowadays!)
Basic – JustHost Hosting Plan
Normally $7.95 Per Month
1 Websites
50 GB Storage
Bandwidth: Unmetered
Email Storage: 100MB
Performance: Standard
Domain: 1
Parked Domain: 5
Sub Domain: 25
Email Account: 5
$2.95* / month
Plus – JustHost Hosting Plan
$10.99* Per Month
10 Websites
150 GB Storage
Bandwidth: Unmetered
Email Storage: 100MB
Performance: Standard
Domain: 1
Parked Domain: 20
Sub Domain: 50
Email Account: 100
Marketing Offer: $150
CDN: Global
Spam Prevention: 1
$4.95* / month
Pro – JustHost Hosting Plan
$23.99* Per Month
Unlimited Websites
Unlimited Storage
Bandwidth: Unmetered
Email Storage: 100MB
Performance: High
Domain: 1
Parked Domain: UL
Sub Domain: UL
Email Account: UL
Marketing Offer: $300
CDN: Global
Spam Prevention: 2
SSL Certificate: 1
Privacy Protection: Yes
BackUp Protection: Yes
Dedicated IP: Yes
$9.95* / month
Money Back Guarantee:
One of the striking features JustHost review wants to highlight  is their anytime money back guarantee. What more assurance one needs when one invests money on a hosting package?
You can literally cancel your hosting plans (for whatever reasons) at any time of your plan and you will receive money back for the remaining months of your hosting plans.
If you cancel within 30 days, no question asked refund by JustHost. But keep in mind, the perks given to you (domain name and one – off account fees) will be levied with cancellation charges.
Technical Support:
Even being a low cost web hosting company, JustHost surprises you with their support team.
If you can bear their long wait time (always the case), the queries are always resolved properly. They have good technical staff and you no need to raise the ticket again and again.
Something you need to know about the above prices, they are not for the beginners. The account supports beginners with lower prices as you pay $2.95 for the first term, then from $5.99 to $7.99 every month.

Other Features of JustHost
Their shared hosting plan offers the standard security features namely SSL and SSH and server backups.
Nothing extraordinary to brag about (almost every hosting company has this feature) but yes it is good to know that your website is safe and secure.
Free Domain Registration:
You get a free domain name when you buy their shared hosting plan.
They don't guarantee a 99.99% uptime in their "Why" section on the company website but they have assured a 24/7 uptime performance for the websites.
A unique sales strategy by JustHost where they provide $100 ad credits for Google Ad words and $100 Bing credits and a recent $50 Facebook credits.
JustHost support Portal allows users to gain access to all information regarding to server, tickets, video tutorial. (Pretty much standard feature of any hosting company)
All common scripts like WordPress, Drupal, Jhoomla are installed alongside when you set up your account. Also, access to their entire script library
JustHost Downsides
Unlike other hosting providers where you find automatic server backup daily, you need to manually backup your data and if you ask me, it is a daunting task.
Not suitable for high traffic blogs:
I will tell you why. Even though they provide plenty of storage space, sub domains and MySQL databases and unlimited data transfer, it hardly plays a role in website speed, load time and performance.
If you go overboard with the above mentioned resources of JustHost, your website gets slowed and they ask you to buy extra features which boost your website speed (not cost effective)
Late response from the Tech Team:
Unlike other hosting providers where you find automatic server backup daily, you need to manually backup your data and if you ask me, it is a daunting task.
Yes, it is annoying to wait for your query to get resolved in chats irrespective of their 24/7 mobile support and email support.
Everybody wants a speedy response and a quick solution in a hosting company via chat and it is a complete let down from JustHost. They had lost a lot of their customers solely because of this downside.
JustHost has to seriously revamp this issue. They do surprise changes in their features and you would raise a ticket having no clue why your website is facing a problem and you will get to know from their support staff that some technical modification is ongoing!
Their cancellation policy doesn't include domain name fees and account fees. They would definitely charge you and make sure to off "auto renew" of your domain name (which you won't use), otherwise they would charge you every year for the same.
A con for people who run medium to large business.
Update: They have recently started new dedicated VPS package. (Which is a welcome act but highly unsure on the implementation side as they have been always a shared hosting provider).
Final Verdict: Whether to Opt for JustHost or not
If you are currently running a small business or you are a start up blogger and entrepreneur, then opt for JustHost.
Why? Because they provide the most budget friendly shared hosting plan compare to any other best hosting providers and their tools and features are sufficient enough to run no mess smooth websites.
Otherwise opt for Siteground if you are looking for professional business hosting (VPS hosting) or you run a large enterprise where you can't take chances with JustHost Downsides. Unsure, you can also read my Siteground review here.