Looking for a cheapest priced hosting company with an extensive list of features to run your website online? iPage hosting is at your service!
Started in 1998 but came to prominence when EIG (Endurance International Group) acquired iPage hosting from Thomas Gorny in the late 2009.
iPage hosting had gained customer attraction with their dead cheap introductory prices loaded with ad credits, freebies and unlimited features specially with their basic shared hosting plans.
The iPage review will focus on its entire hosting plans, the impressive features, what you won't like and finally whether you should buy their service or not.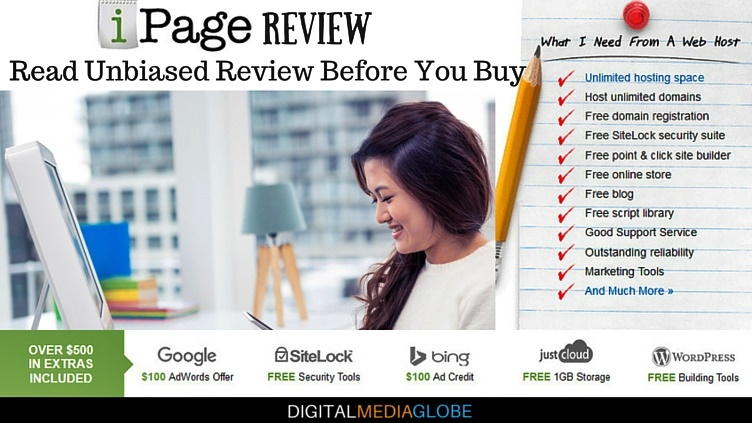 iPage Review
iPage Hosting Plans
Essential Hosting Plans:
iPage sticks to just one basic shared hosting plan called essential hosting plan.
They provide you with an introductory offer at $1.99 per month and you are billed annually for the plan (No monthly, quarterly or biannually paying options).
The renewal pricing would be at $10.99 per month onwards.
The essential plan offers unlimited disk space, email addresses, free domain registration, free security site (SiteLock), free site building tools, free built -in online store, free ad credits (&100 Google AdWords and $100 Bing ) and free 1GB cloud storage account (Just Cloud) all for $1.99 per month.
VPS Hosting:
One requires VPS hosting when a website has a huge number of visitors that shared servers would be insufficient to run their business on.
iPage VPS hosting is quite good with the price tag and the array of features it caters to. Currently all their VPS plans have an ongoing 20% promotional discount as an introductory offer.
Visit here for more information.
I have sorted their three VPS plans in a table format for your convenience.
| VPS Plans | Introductory Price | Renewal Price | RAM | Storage | Bandwidth |
| --- | --- | --- | --- | --- | --- |
| Basic | $19.99/mo | $24.99/mo | 1 GB | 40 GB | 1 TB |
| Business | $47.99/mo | $59.99/mo | 4 GB | 90 GB | 3 TB |
| Optimum | $79.99/mo | $99.99/mo | 8 GB | 120 GB | 4 Tb |
Additional Features:
Irrespective of what VPS plans you choose, their additional features are same across all plans.
You get a free Domain name registration, personalized email, free ad credits for search engine advertising which includes Google, Facebook and Yahoo, eco-friendly web hosting, unlimited domains, databases, FTP accounts, pre-installed scripts and cPanel features to run your website smoothly.
All their VPS hosting are configured using Linux based servers. They currently have no configurations for Window based servers which may be a disadvantage for someone whose site is built on a window supported framework.
Dedicated Hosting:
If you are someone who wants complete control on hosting with higher security level and a customizable option to run their software with a single dedicated hardware, dedicated hosting is what you need.
Hence dedicated hosting is priced at higher levels compared to a VPS hosting.
iPage Dedicated hosting has three plans for you:
| Dedicated Hosting Plans | Introductory Price | Renewal Price | RAM | Storage | Bandwidth |
| --- | --- | --- | --- | --- | --- |
| Startup | $119.99/mo | $149.99/mo | 4 GB | 500 GB | 5 TB |
| Professional | $151.99/mo | $189.99/mo | 8 GB | 1000 GB | 10 TB |
| Enterprise | $191.99/mo | $239.99/mo | 16 GB | 10000GB | 15TB |
All the additional features are the same as VPS hosting except for the independent control you get with hosting your website on a dedicated server.
WordPress Hosting:
If you want to run your website entirely on WordPress platform, checkout iPage WordPress dedicated hosting plans.
iPage currently offers two dedicated WordPress hosting plans WP Starter at $3.75/mo and WP Essential at $6.95/mo.
You get customized cPanel and pre-installed themes and plugins in both the plans while with the essential plan you get great value in terms of speed, security and support.
You also get unlimited disk space, bandwidth, free domain registration, money back guarantee, unlimited email accounts and free ad credits.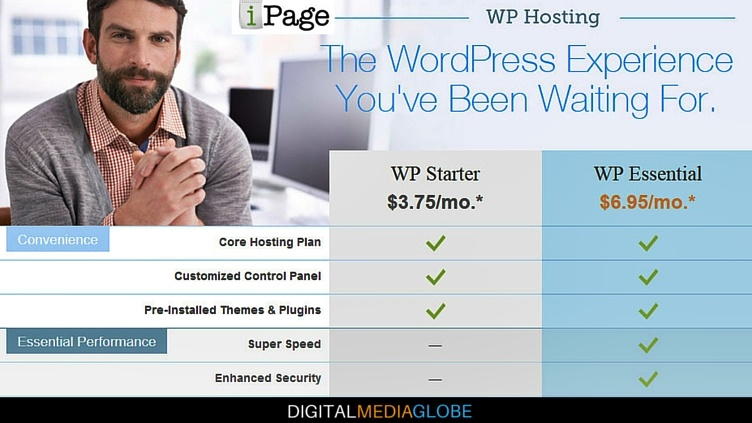 Impressive Features of iPage
Green web hosting:
It's great to know that iPage has dedicated an entire page on its website about green web hosting.
Thumbsup for that effort! What it means as a green (eco-friendly) hosting is that all the datas , office generates, and servers are fueled by wind energy.
V Deck Control Panel:
The iPage cPanel named vDeck has simple interface in design and though their templates may look bit outdated, it is easy to use overall.
You have an FTP portal to manage your FTP users, a File Manager icon to upload and download files.
Mojo Marketplace icon to connect different WordPress supported themes, plugins, and other add- ons using the simple 1 click installer.
The free 1GB cloud storage icon provides free virtual storage of all your files and data's up to 1 GB data space.
MyInstall icon has all simplescripts pre installed from MOJO market place already. You can directly start using this feature to get your website started.
ShopSite Starter Icon:
It is a free online store builder and acts as a integrated iPage support feature if you are running a ecommerce site.
Visitor Statistics :
It is typical analyzing tool from iPage similar to Google analytics where you can analyze your traffic stats like page views, bounce rates to name a few.
Website Creator by CM4all:
It is a website builder designed for WordPress websites with quite a few inbuilt themes, best for the novice bloggers with no technical knowledge.
They can simply build a cool website by selecting any one of the inbuilt themes.
Weebly Drag and Drop Builder:
Weebly is much more similar to Website creator but this time from a third party web builder namely Weebly.
It is Weebly's basic version (free) and has simple drag and drop features. Opt for Weebly builder if you cannot shell bucks on a private web design company to design your website.
goMobi Site Builder:
The goMobi site builder comes as paid option(1.98/mo) to build an exclusive mobile responsive website.
Customer Support:
iPage support team is lauded for being amiable and knowledgeable with their customers.
You can connect with iPage security team though live chat, a phone call or by dropping emails.
SEO and Marketing Credits:
iPage offers impressive ad credits of 500 dollars to invest in Google AdWords, Facebook ads and Bing Promotions with their measly $1.99/mo shared hosting package.
Decent Uptime:
iPage maintains solid server performance most of the time in terms of uptime and they have 24/7 network monitoring.
Catering to million of customers worldwide, iPage has managed to get an overall positive response from customers on uptime when compared to the price they pay.
Hosting Cost:
The basic iPage shared hosting plan starts at $1.99 per month making it the cheapest hosting provider out there.
Though you don't have any monthly or quarterly billing option, a yearly billing is definitely not going to burn your pocket.
30 days money back guarantee:
No questions asked 30 days refund policy. But you need to use a credit card as the mode of payment to initiate cash refund.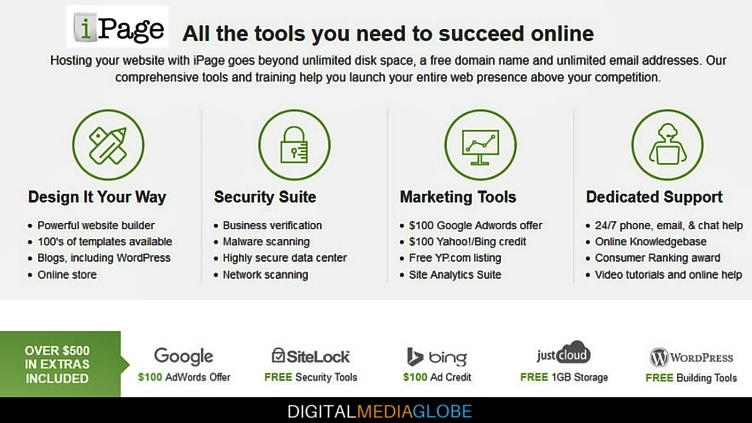 Downsides of iPage
Retrieval fee:
Please make sure you don't auto expire your account. You need to pay a hefty amount as a redemption retrieval fee to iPage.
Higher Renewal Rates:
Let's talk things straight here. Even though you get a dead cheap shared hosting package as new users, mind you, you are going to pay much more (more than twice of the initial cost) as repeated customers.
I appreciate that they are open about it by mentioning in their website; still you may get disappointed with their steep renewal charges.
Domain charges:
They have clearly mentioned in their website that a sum of 15 dollars would be deducted as domain fee if you wish to go for iPage hosting cancellation
So I guess the free domain is just a marketing gimmick from iPage to lure customers.
Upselling:
Since you have one basic shared hosting plan, any extra features comes with an additional fee.
For Instance if you need domain privacy, you need to pay $9.99 extra. The security suite SSL costs you $49.95 (introductory offer) extra, automatic site backups costs at $12.95 per year.
Reasons why should you opt for iPage?
iPage is the perfect choice if you thinking to start a new website at a cheaper cost.
If you want an easy to use Control Panel
If you are looking for a support team that is quick in solving your issues.
If you are a novice blogger with minimal technical knowledge about website and related stuff.
If you are looking to host a medium to small sized company or blog or want to host multiple websites at budget prices, iPage can be a favorable option.
They have three website builder options to build your website without any programming knowledge from your side.
If you are inclined towards eco friendly hosting.
Final Call
iPage may not be the best hosting company as there are downsides to it. But it is one of transparent hosting company out there where you can survive perfectly well with a decent budget. Even their VPS and dedicated hosting has some decent introductory offers.
I guess one won't regret much using iPage as a new customer for the price you pay until and unless you switch to their premium support which is expensive.