FTC disclaimer: This post contains affiliate links and I will be compensated if you make a purchase after clicking on my link.
Are you a writer who writes in a flow (loaded with typo errors)? Or you have a flare for writing but with a minimal knowledge of English Grammar.
Grammarly is at your service to make things easy.
Unlike proofreading yourself or by using a typical MS word, Grammarly is an online grammar check tool which will do the content proof reading for your articles you will write online.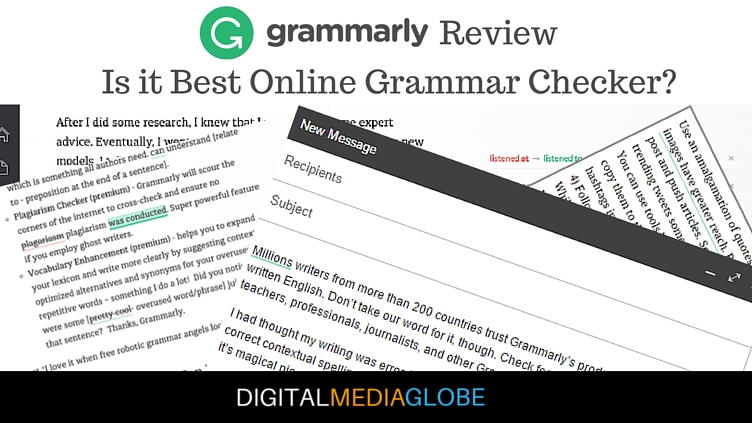 In simple words, it is your virtual Grammar coach.
The entire Grammarly.com review will focus on its key features, what it lacks and who is going to benefit from the tool so that  you will get an accurate picture of this tool.
Grammarly Review : Is Grammarly Worth it?
How Grammarly will impress you?
While there are dozens of free grammar check software available in the market, Grammarly has some impressive features which makes it slightly on the better side.
Ease of Use:
No software tool is going to win the heart of its customers if it's not easy to use. Grammarly scores well here.
You can use Grammarly in the following ways:
Log into Grammarly and download any of their free web browser extension (Chrome, Safari and Firefox). Once installed, you need to click on a new document and start writing. It is as simple as that. These browser extensions will monitor all your blog posts, your Twitter tweets, posts in Facebook, several other social media sites and even emails for that matter.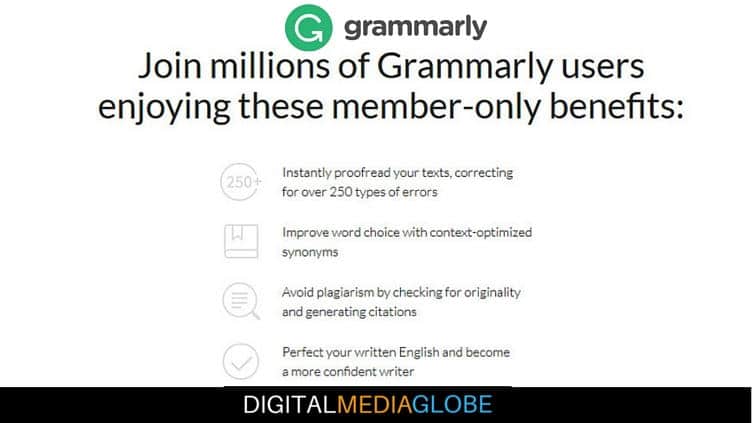 Alternatively, you can directly login into Grammarly and start writing instead of downloading web browser based plug-in.
You can even download their free Grammarly editor in your computer and just make sure to have an internet connection before using it.
You can buy their premium subscription and use it along with MS word as Microsoft Add-in
They have even recently launched their desktop app for Mac user.
Since it can be used in your web browser, all typing activities you do in any social media sites would be error free.
You can merge the Grammarly plug-in with almost anything before you start writing online.
Makes you a Better Writer:
Instead of just correcting the grammatical mistakes and acts as your spell checker, it goes a step further with providing reasons and explanations on why you have made that mistake in the first place.
So you are learning what your weak shots in grammar are and in no time you would see your writing being improvised.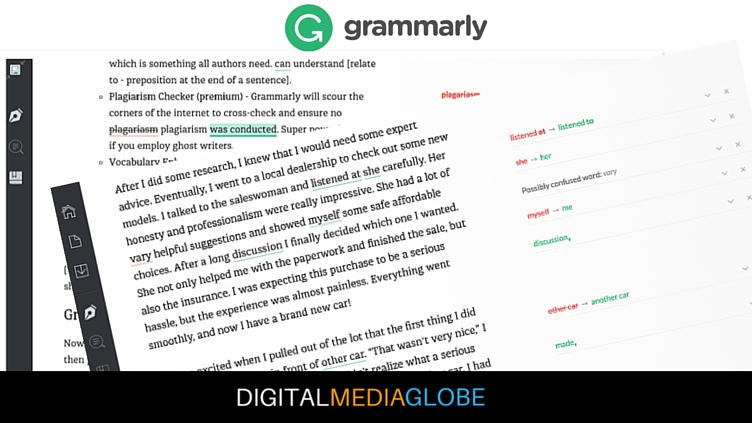 Features You Love the Most in Grammarly
Plagiarism Checker:
This is a premium service feature of Grammarly and it excellently does its job of finding plagiarism from the tons of articles you find in the virtual world.
If you are somebody looking for plagiarism checker tool for whatever reasons (you are working with a ghost writer, you have to write an academic thesis, etc.,), just go with Grammarly and you won't regret at all.
Contextual spell checker:
Grammarly will detect all spelling mistakes, typos errors, punctuation and apostrophe's errors of your entire text.
The best part of this checker is that it analyse your text based on who your audience are and what genre of writing, it is going to be.
So choose your writing medium. Decide in advance from Grammarly option of whether it is going to be casual writing, business writing, academic writing, technical writing, etc.
Microsoft Office Add-in:
Not everybody wishes to write articles directly online and if that's the case and you love writing in MS word then you can integrate Grammarly plug-in with Microsoft word document or with Microsoft Outlook.
Remember, this option is available only to premium subscribers (you need to pay).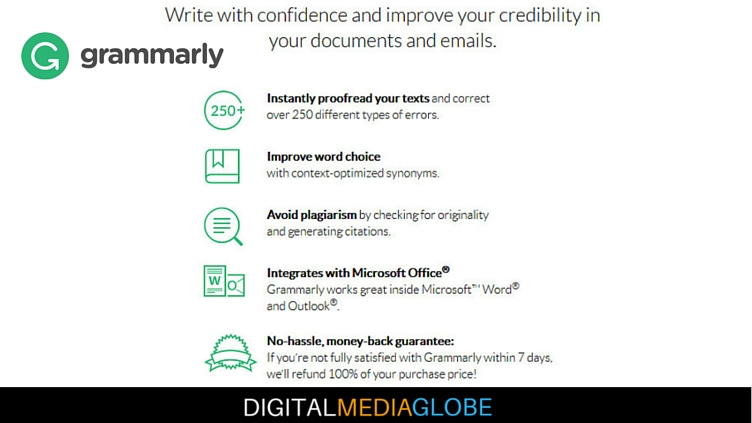 Other Advanced Features of Grammarly:
Weekly Report Card:
It provides a weekly report card which identifies areas of improvement and your weakness areas in English grammar department.
If you are serious enough to analyse Grammarly report cards for all your online write-ups, your writing standards would be on a rise.
Extensive Rule Checker:
Unlike MS word, Grammarly uses 250 advanced grammar rules check for your text errors.
Vocabulary Enhancement:
Grammarly acts as cue card by providing synonym suggestions thus improving writer's vocabulary.
Grammarly@edu:
This is Grammarly exclusive service for providing writing support solution for student's education.
This automated grammar tutor and revision support tool works across all modes of education ranging from secondary to higher. They have different pricing schemes and plans for colleges, universities and schools.
Visit here for more information.
Grammarly Handbook:
Grammarly had sweated an extra mile to build handbook on English Grammar to provide value addition to its users. Check here for more information.
Grammarly Answers:
It is a Grammarly internal forum for its members where you can do Q&A on any Grammar areas and related to it.
It basically acts as a knowledge sharing warehouse for writers.
What Grammarly actually do?
It will look for flaws in any given content and flags sentences, words which is not grammatically correct.
It could be a wrong preposition, silly punctuation mistakes, improper verb placement, etc, literally any grammar error under its disposition.
The entire Grammarly interface is simple, neat ,intuitive and you can immediately gets your hands on with it. It is important to note that it does not automatically corrects the error; it is you who is going to take the final call for changes.
It simply reviews, searches and flags every type of grammatical errors and comes back with suggestion and feedback.
Why you should opt for Grammarly?
If you are in a lookout for something beyond MS Word and wants your content to be crystal correct, then you should go for Grammarly as it gives an accurate grammer check with 250 plus grammar rules.
Go for Grammarly without a second thought if your mother tongue is not English.
If writing is not your cup of tea but you need to occasionally write. Grammarly will come for your rescue.
You want to become a professional writer and want to write better and better, just start writing with Grammarly. You won't regret.
Who will benefit from Grammarly?
Literally everybody!
Students of any grade, who needs to write assignments, thesis, projects, paper presentation as part of their curriculum
Teachers, lecturers, professors, Scholars
Freelance writers who earns passive income by writing
Marketing professional who need to pitch their product to their customers
Bloggers like me whose top priority work is to write tons of review and value addition articles for their readers.
The list is endless and currently Grammarly caters to millions of customers with their English Grammer Check tool for virtual contents.
Downsides of Grammarly:
Upfront Payment:
While their free version has limited features, one would ultimately want to harness all features of Grammarly. You have to buy Grammarly Premium in that case.
They have three models with monthly billing being highest with $29.95 per month, a moderate quarterly billing at $59.95 (you have to pay in advance) and the upfront yearly payment of $139.95.
The Grammarly premium cost is definitely on the higher side.
Grammarly won't flag your spellings if you are writing British English.
Unfortunately there is no way you can call Grammarly for your doubts as their help and support is via emails and forums.(No live chat too)
The Grammarly software sometimes works slowly when used as a browser extension.
My Final Call
Unlike many Grammar check software and applications that just restricts itself as a writing enhancing and grammar correcting tool, Grammarly goes a step further by concentrating both on the writer and the writing.
It acts as a perfect mix in educating, building, proofreading and enhancing writing community, thus making, Grammarly a worthy option to try.
Remember not to go overboard with Grammarly as the one stop solution for writing assistance; instead harness its features to the fullest according to your preferences and needs.