Eleven40 Pro theme is a clean ,clear, visually appealing and wide layout theme. It is easily customizable, responsive and professional looking WordPress theme that suits best for any professional blog.
Do you know why it is been named as Eleven40 theme !! Because it has crossed the traditional limitation of 960px size and an extended layout of 1140px.
Genesis Eleven40 Pro theme is fast, reliable and has strong commitment to security. It carries great typography that is easy to read, well spaced and sized properly.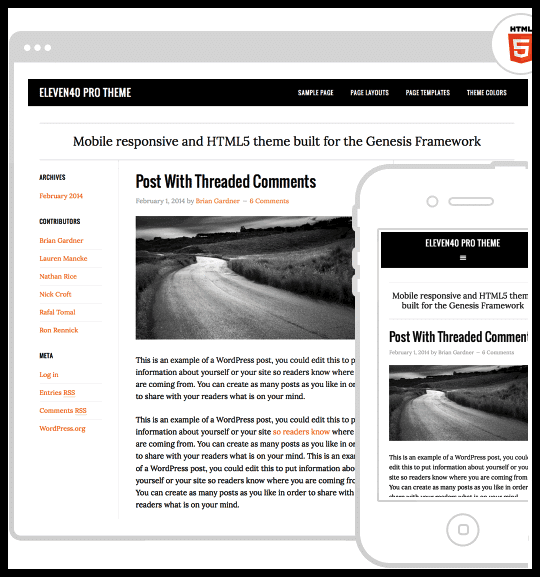 Five Reason Why I Love Eleven40 Pro Theme on My Blog ( Eleven40 Pro Theme Review)
1. Tailor-made For Content – Your Customer will love it
If you go through my blog, you will notice the contents are wide spread. When your contents are well placed, easy to read and more importantly easy to get noticed, then your visitors would love to come again and again. Eleven40 Pro theme enriches user reading experience and keep away  unnecessary "noisy" stuff.
When a website has plenty of white space on the sides, it makes your content look narrow along the sidebar. The narrow content give more stress to eye and difficulty in reading. You will get tired sooner and leave the website to search for another.
However, Eleven40 Pro theme by StudioPress has not fully covered the white space but it kept enough white space on either side of your theme. So, the whole design makes your feel clutter free, well separated and provide enough room to each element.
The main purpose of DigitalMediaGlobe is to deliver valuable content and information, just like Eleven40 Pro theme by Genesis is designed for. I just like the way it is – simple, clean and elegant.
Have a Look on Genesis Eleven40 Pro Theme
2. Easy to customize – You can be your own web designer
Once you navigate through different sections of my blog, you'll find that I have done modification to the theme. Do you thing I have hired a web designer – you're mistaken! I have done it all by myself and even you can do it of it own, without any knowledge of web designing.
Once you have purchased Eleven40 Pro theme, you can directly go to any well written Genesis tutorial and blog. Brian Gardner, founder of StudioPress has written so many self help tutorial.
All you need to do is to follow step by step process, copy-paste as instructed and you're done.
In case you got stuck ,StudioPress support team is always there. All you need to do, is to file a ticket and your problem gets solved.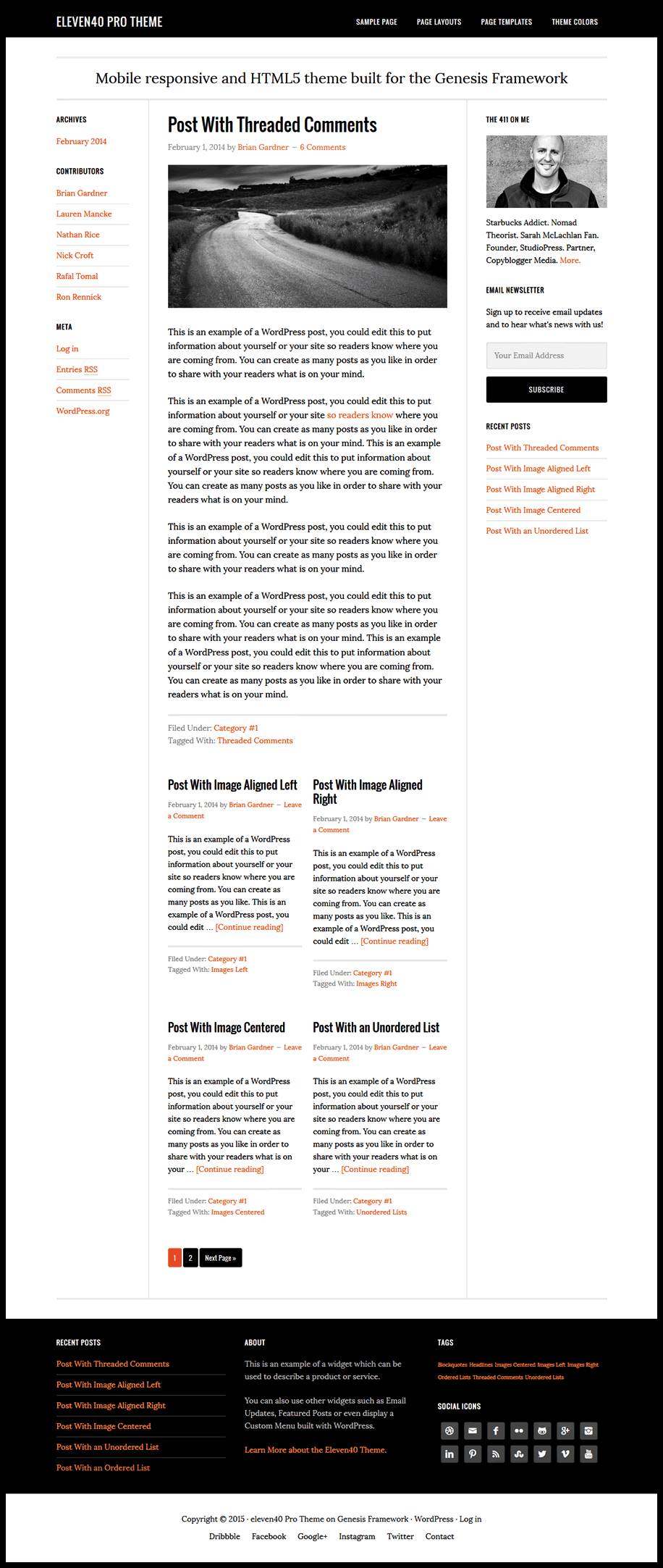 3. Eleven40 Pro Theme Best for personal and professional blogging
Are you a serious blogger? Want to maintain your personal blog? Looking for a professional WordPress theme for blogging. Eleven40 Pro theme is the one you are searching for.
If you are  looking for a long term and profitable blogging, Eleven40 Pro WordPress theme is best to give great foundation. The Genesis Eleven40 Pro theme comprises of HTML5 and CSS3, which helps you to run multiple plugins and widgets smoothly.
You can build your own custom widget, display feature post and page, and customize user profile.
StudioPress Eleven40 Pro theme backbone is its solid code base because it will help your site to work faster in any browser and get better ranking in search engine. According to Google, the speed of website is considered as one of the ranking factor, so its aids in obtaining better ranking in Google.
4. Eleven40 Pro theme is a fully responsive WordPress theme
If your website is not mobile friendly, your site would be out of Google ranking signal. Google has recently updated the search algorithms and indicated that mobile friendly website can do better in search engine. So, now mobile friendly theme is a compulsory thing to consider.
Eleven40 Pro theme is not only mobile friendly but a fully responsive WordPress theme.  Means, it will adapt to any browser environment and will automatically adjust to any device (mobile or tablet).
The well crafted responsive design enriches user experience and gives a stunning look to your blog.
5. Flexibility and Functionality
You have the flexibility to display number of article on the front page as per choice. You can choose one out of the 6 page layout option available. You also have 4 theme color options to choose.
Eleven40 Pro theme has lots of great functionality to enhance your blogging experience. The Genesis framework has powerful SEO setting, image alignment, different page and post layout setting.
You can even grow your subscriber with subscription box, engage with social icons and latest tweets. You also have the flexibility to the tweak menu bar and entire header area.
Most Important other Features of Eleven40 Pro Theme
Multiple Color Option – Eleven40 Pro Theme comes with 4 color options ( Blue, Green, Orange(Default), Red )
Multiple Layout Option – Genesis Eleven40 Pro Theme consist of 6 layout options
Custom Header – You can have your own custom header image with Eleven40 Pro theme that fits your brand.
Custom Feed –  You can even enter the custom feed URLs for new posts and comments.
Breadcrumbs Feature – At the top of the content area of the Eleven40 Pro Theme, their is an option to display breadcrumbs.
Comments and Trackbacks Option – This feature allows you to customize the visibility of comments and trackbacks on posts and pages
Custom Hooks (40+) Feature – It is a piece of code written into the theme that allows you to add additional content to any part of the theme. This unique feature give you the flexibility to customize your theme in a better way.
Custom Widgets – StudioPress Eleven40 Pro Theme has Custom widget area which includes MyTweets, eNews & Updates, User Profile, Featured Pages, Featured Posts,
Import / Export Settings – The Genesis Theme and SEO settings are completely portable, so you can back up, restore, and transfer settings from one location to another
HTML5 Markup – WordPress Eleven40 Pro Theme comes with HTML5 markup. Now it can handle better graphics, display media and content properly
Threaded comments – The StudioPress Eleven40 Pro theme support threaded comments that make your conversation look good and easy to manage.
Get Genesis Eleven40 Pro Theme
Genesis Eleven40 Pro Theme Widget Area:
This Eleven40 Pro Genesis child theme has three widget areas:
Primary Sidebar
Secondary Sidebar
Three Footer columns
Get StudioPress Eleven40 Pro Theme
Enhance Your StudioPress Eleven40 Pro Theme Functionality with Genesis plugin:
Here is the list of Genesis plugins for StudioPress Eleven40 Pro Theme:
Gravity Forms
Genesis Featured Widget Amplified

Pinterest

Pin It Button for Images
Simple Social Icons
Genesis Latest Tweet
Genesis e News Extended
You can find the complete list by clicking here.
Other Genesis Eleven40 Pro Theme Resources
My Studiopress Guide (Beginner's Guide, Theme Settings, Code Snippets, and Forum) for Modern Blogger Pro Theme
How to get StudioPress Eleven40 Pro Theme?
Eleven40 Pro Theme StudioPress work on Genesis Framework. Get StudioPress Genesis Framework here.
Why Genesis Framework?
Genesis Framework is one of the most powerful, clean and flexible theme framework that you can use for your blog's foundation. It's super secure. The developers have worked very hard to give you a WordPress platform that's not only secure but also search engine optimized.
1. Existing Customer: If you are already a customer then you can directly buy by logging into your account.

2. New to Genesis Framework: You have to buy both Genesis Framework as well as child theme. Combinedly you can get it in reduced price

3. Fan of Studiopress: Get all StudioPress Pro Plus Theme Package in an unbelievable price. The whole package includes Genesis Framework too.

With a purchase of StudioPress, you will get lifetime updates and support.
If you are looking for a robust, beautiful, and clean premium WordPress theme to enhance your blogging experience, Eleven40 Pro Theme is a strong contender.