WordPress Daily Dish Pro Theme by StudioPress is minimal, elegant, content focused, and quite sophisticated WordPress Food Blogger Theme. Genesis Daily Dish Pro Theme by StudioPress is suitable for all types of people who are food recipe writer, food reviewer, chef, tech writer, professional and individual reviewer. It is also suitable for WordPress review theme, WordPress Travel theme or Travel blogger.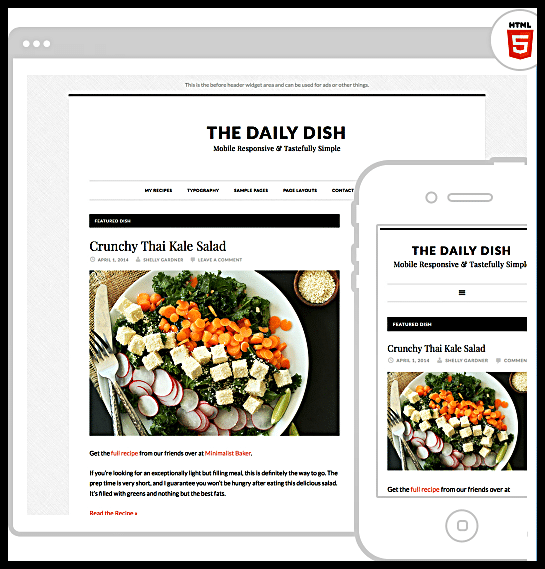 StudioPress Daily Dish Pro Theme orients distract readers to focus on what's most important and never allow to go away without clicking. Daily Dish Pro Theme is quite inspirational WordPress Theme for daily blogger, Writer and professional. It supports all types of multimedia content, responsive to all types of devices that make your blog outstand, attractive and stylish from others.
Why StudioPress Daily Dish Pro Theme Most Powerful Food WordPress Theme?
StudioPress Daily Dish Pro Theme
Flexible Homepage &
Multiple

Featured Boxes:

The Daily Dish Pro WordPress Theme offers multiple featured category boxes in a home page. Featured boxes are a new way of showing latest posts like a magazine WordPress Theme. You will have the flexibility to add and customize featured sections like Desserts section, Dishes section, Recipe section etc. When a new post gets published it will automatically get added to the desired section of the home page.
Customisation

Potential:
Daily Dish Pro theme having huge potential to add a lot more functionality and customize as per your business requirement. Some example, include adding a responsive slide, customize your color scheme and layout with some css tweaks, changing footer credit etc.
Multiple Layout Option:
The Genesis Daily Dish Pro Theme has 6 different page layout option. It includes content and right sidebar, content and left sidebar, content and 2 right sidebars, content and 2 left sidebar, content and, one left and right sidebar, and at the end Full Width Layout.
Search Engine Optimized and Friendly:
The Daily Dish Pro Genesis theme is highly optimized, search engine friendly, flexible and secure WordPress Genesis theme framework. It's having all SEO options to rank your website in search engine.
Most Clean Code and Design:
The WordPress Daily Dish Pro theme builds with clean and optimized code. Daily Dish Pro Theme design, architecture and layout ensure that your content are placed properly and optimized for every device.
Unlimited Support and Updates:
The Daily Dish Pro Theme has unlimited everything such as support, updates and domains. I love the support feature of StudioPress theme so much.
Secure and Reliable:
Genesis theme Framework follows all types of WordPress security measures and best practice. It is being regularly audited by the WordPress Lead Developer to ensure that it has the best security measures.

Other StudioPress Daily Dish Pro WordPress Child Theme Feature:
WordPress Daily Dish Pro Theme is best choice for all food and recipe bloggers. It will let your recipe, dishes and other categories featured on the homepage. Daily Dish Pro child theme also depicts the website as a magazine style with an attractive primary navigation menu. Let's see the other important feature of the Daily Dish Pro Theme.
Custom Feed – If you are using Feed burner for your feeds, you can enter the custom feed URLs for new posts and comments.
Custom background – You can upload your own background image or change the color scheme.
Custom header – You can have your own custom header image that fits your brand or have custom logo.
Breadcrumbs Feature – At the top of the content area of the Daily Dish Pro Theme, you can check here on what pages these crumbs should be displayed.
Comments and Trackbacks Option – This feature allows you to customize the visibility of comments and trackbacks on posts and pages
Custom Hooks (40+) Feature – It is a piece of code written into the theme that allows you to attach additional content to the theme itself which give unique flexibility to your theme.
Custom Widgets – Daily Dish Pro Theme has Custom widget area which includes MyTweets, User Profile, eNews & Updates, Featured Posts, Featured Pages.
Import / Export Settings – The Genesis Theme and SEO settings are completely portable, so you can back up, restore, and transfer settings from one install to another
HTML5 Markup – WordPress Daily Dish Pro Theme comes with HTML5 markup, so that it can handle better graphics, display media content properly, easily handle better page structure and form.
Threaded comments – The StudioPress Daily Dish Pro theme support threaded comments that make your conversation outstanding and worth full.
Get StudioPress Daily Dish Pro Theme
Daily Dish Pro Theme Multiple Widget Area:
Primary Sidebar – The Daily Dish Pro primary Sidebar is

a main sidebar

where you can include most featured

things

such as sign-up newsletter, social media share button, featured

posts

and recent post.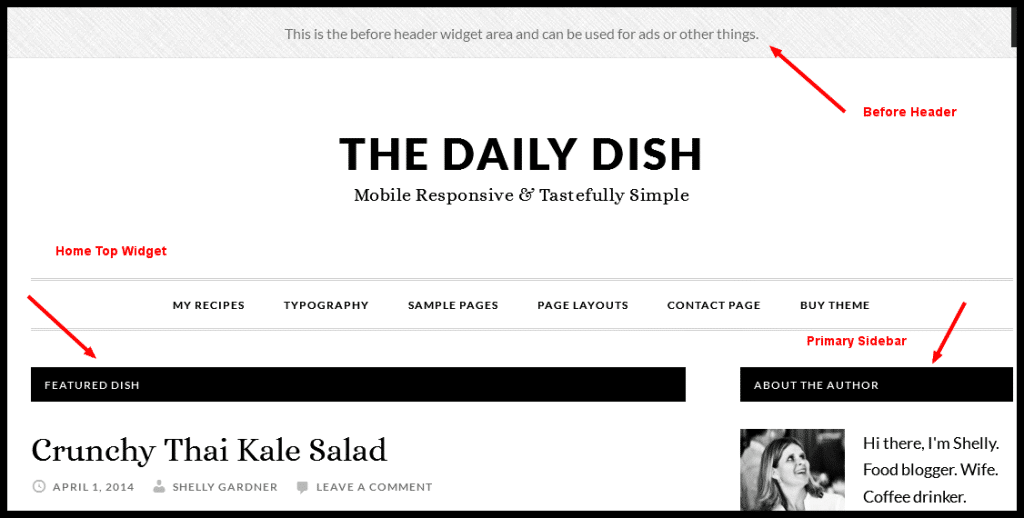 Secondary Sidebar – Secondary Sidebar is

an

optional sidebar which you can include either in left and right side of the content. Just you have to drag and drop you widget to get display
Before Header – As

the name

suggests

this

widget's

area appear before your site's header. You can use this widget for anything such as display ads or welcome message or new offers etc.
Home Top – Home Top section comes after your menus and header logo. This section

displays

a large featured image along with a lengthy excerpt. You can include as many

posts

as you can or anything other than post such as only image or slider etc.
Home Middle – Home Middle display a smaller image as well as shorter excerpt compared to Home Top. You can include anything that fit the area or you can have featured post from any category.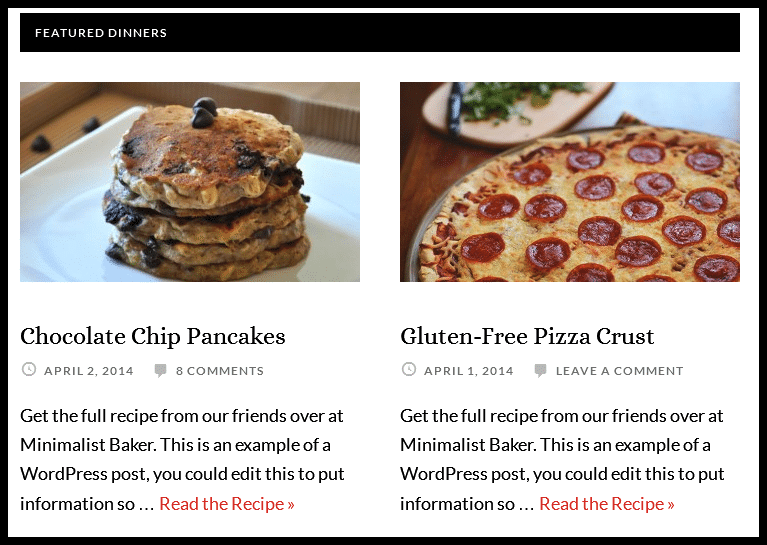 Before Footer Widgets – The display of "Before Footer Widgets" is at the bottom of your homepage, just before the footer area. This widget area is most fit for I

nstagram

or

the Flickr widget

to display your recent photos and images.

After Footer – The "After Footer" widget is same as "Before Header" widget area of

the Daily Dish Pro Theme

. It is situated at the bottom of the Daily Dish Pro Theme. It

depends

upon your imagination how you can take advantage of this widget.
Footer – The Footer section has three standard footer widget area. This section can be best used for recent comments, subscribe box, display ads etc.
After Entry – Daily Dish Pro Theme "After Entry" section comes at the end of a post. This section is most suitable for newsletter sign-up

,

call to actions and display ads.
Get WordPress Daily Dish Pro Theme
Enhance Your StudioPress Daily Dish Pro Theme Functionality with Genesis plugin:
Here is the list of Genesis plugins for StudioPress Daily Dish Pro Theme:
Gravity Forms
Genesis Featured Widget Amplified

Pinterest

Pin It Button for Images
Genesis Latest Tweet
Genesis e News Extended
Simple Social Icons
You can find the complete list by clicking here.
Other Genesis Daily Dish Pro Theme Resources
My Studiopress Guide (Beginner's Guide, Theme Settings, Code Snippets, and Forum) for Daily Dish Pro Theme
How to get StudioPress Daily Dish Pro Theme?
Daily Dish Pro Theme StudioPress work on Genesis Framework. Get StudioPress Genesis Framework here.
Why Genesis Framework?
Genesis Framework has one of the most powerful, simple, styling, clean resources that you can use for your blog's foundation. Genesis is packed with lots of great stuff such as SEO Optimized, user friendly, clean code, 100% customizable and many more. It will not only boost your performance, but also multiply reader experience.
1. Existing Customer: If you are already a customer then you can directly buy by logging into your account.

2. New to Genesis Framework: You have to buy both Genesis Framework as well as child theme.

Combinedly

you can get it in reduced price

3. Fan of Studiopress: Get all StudioPress Pro Plus Theme Package in an unbelievable price. The whole package includes Genesis Framework too.

With a purchase of StudioPress, you will get lifetime updates and support.
Food blogging with style has never been so easy than with the bright, professional, minimal, clean Daily Dish Pro theme and that having amazing flexibility, great typography and Mobile Responsive too. So why not to love?