Want a better theme for Business website? Here it is. Genesis Executive Pro Theme is one of the best themes that suits perfectly for business websites. StudioPress Executive pro Theme has a responsive design and a fully widget homepage with a custom post type of portfolio posts.
The simplicity, elegance and eye-catching design of the Executive Pro child theme makes it perfect for business websites. Most entrepreneurs when they start their own website, they look for a WordPress theme that should be clean, bright and most importantly attention seeker and eye catcher. The WordPress theme that is easy to use, multiple layout and showcase their business product well. If you are in the same line, Studiopress Executive pro theme would be the outstanding choice.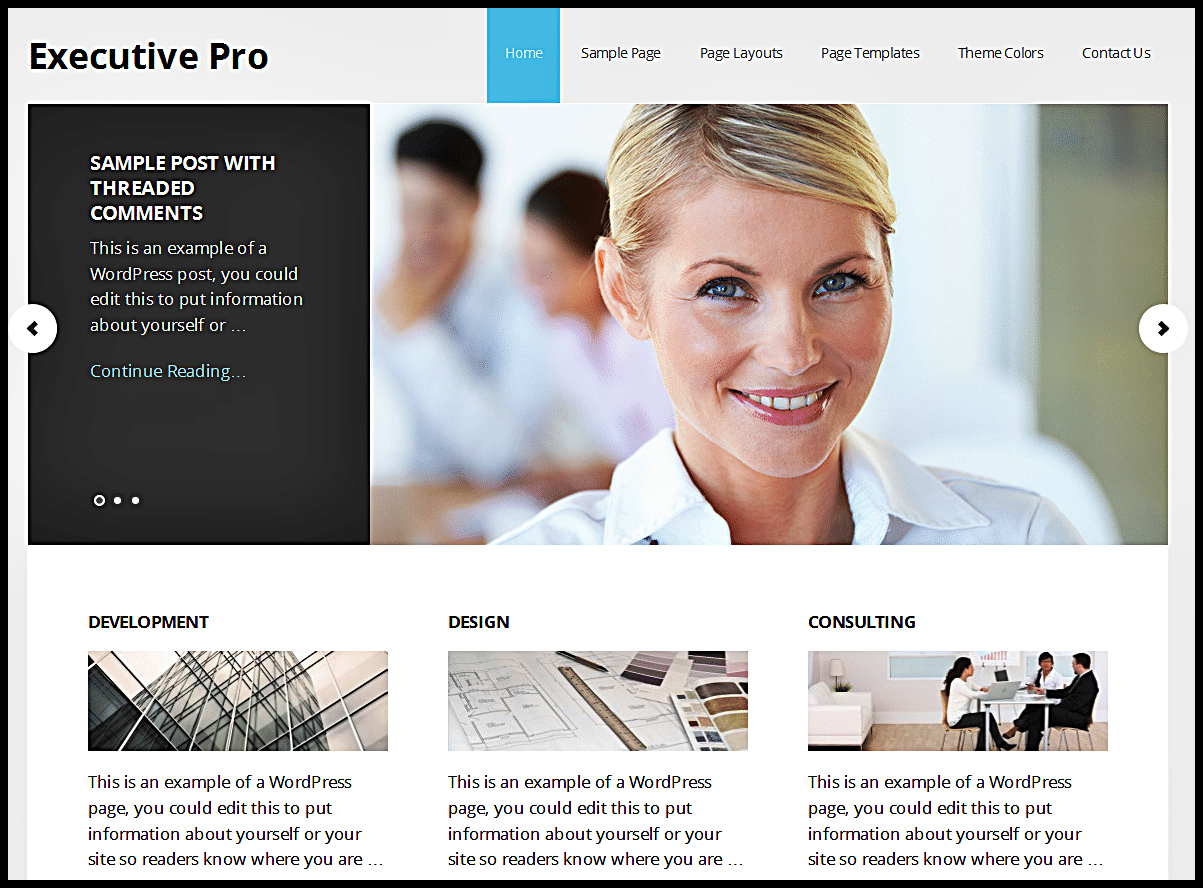 Why to choose Studiopress Executive Pro Theme for your company?
There are multiple reasons to choose Genesis Executive Pro Theme.
Let's
see
Executive Pro Theme Review
on different factors
Beautiful and attractive design:
WordPress Executive Pro Theme
designed to give premium experience to your customer and clients. It shares and displays your objective and project to attract more eyeballs to the front page. This great Genesis theme emphasis more on typography and layout with lots of white space. I am sure you won't be disappointed when you will see a full fledge demo. Portfolio section and widget based homepage improve product display and style of the home page. Color scheme, attractive menu and well placed sidebar
give
a decent look
for
the whole pages
Easily shows your product and services:
Front page is to display your product and services with featured images and custom text and link. Each row is divided into multiple column to give a nice and attractive look to your product and services. Custom design is an added advantage, so you don't need any programming or coding experience to customize your look and feel.
Flexibility:
Flexibility to customize your slider, which content to show and how much to show, set timing for slideshow etc. Multiple color option to give a corporate feel, such as Blue (Default), Brown, Green, Orange, Purple, Red and Teal. The page style comes in full width, style for special product promotion and by default you can use page with left or right sidebar. Multiple Layout option to select and alignment of sidebar.
Responsive Theme:
StudioPress Executive Theme is a responsive theme to other devices such as tablet, mobile, android mobiles, laptop screen etc.
Powerful display of Images and HTML 5 Markup:
Executive Pro Theme automatically adjusts images in different sections of your post such as in post element, thumbnail image and featured image. Once set rest leave it to Genesis, no cropping and resizing is needed. HTML 5 Markup makes sure that your performance does not get affected in different browser and devices and, you will receive optimized performance


Menu and Widget Area:
Genesis Executive Pro Theme supports three menus

1. Primary navigation menu
2. Secondary navigation menu
3. Custom menu to the Header widget area
You can add three custom widgets such as featured page, featured posts, and user profile and also to enhance the productivity of the Genesis Executive Pro theme, you can add Genesis
eNews
and Updates and Genesis Latest Tweets widgets
You can find a complete list by
clicking here
While the Genesis child theme support nine widget area
Header – Right
Primary sidebar
Home – Slider
Home – Top
Home _ Call to Action
Home – Middle
Three Footer Columns

And also the homepage is composed of


Slider
Home Top
Call-to-Action Bar
Home Middle
Footer

You can add a Genesis Responsive Slider to pull content into these widget areas


Page Templates:
Genesis Executive Pro Theme facilitates  to choose between a business and a blog-styled
homepage
. You can even customize the front page with a traditional blog style.
The
Executive Pro theme
offers four page templates
Default
Archive
Blog
Landing Page

Genesis Executive Pro Setting:
Theme Setting
SEO Setting
Import/Export
Slider Setting
SEO Setting: Genesis Executive Pro SEO setting consists of Document Title, Homepage Setting, Document Head Settings, Robots Meta Setting and Archive Setting. You have knowledge in SEO then you can tweak default SEO options otherwise leave it in default state.
Import/Export Setting: Import/Export page lets you create a file in JSON format for backup and transfer purposes. You can export just the Theme Settings and/or the SEO Settings. Of course, you can also upload a JSON file.

Theme

Setting: The Theme Settings page comprises of following dialogue boxes to help you personalize the theme:
Information: The Information box displays the current version number of the Genesis Framework. You can also subscribe to receive e-mail notifications when any updates become available.
Color Style: Executive Pro comes with multiple color option, around 7 predefined color styles. The color, style available are: Blue (Default), Brown, Green, Orange, Purple, Red and Teal.
Custom Feeds: You can enter the custom feed URLs from Google Feedburner for any new post and comments
Default Layout: You can choose the default layout as one column or two columns. You have the option to choose the left or right sidebar for two column layout. You can customize different layout for every single page and post.
Navigation: Executive pro theme provides a great option for Primary Navigation menu by enabling extra element at the right-hand side. You have the option to enable Today's Date, RSS Feed, Links, Search Form and Twitter Link.
Breadcrumbs: Breadcrumbs are always at the top of the content which means of getting back to previous page without having to use your browsers back button. You can check to display on different pages as per your choice.
Comments and Trackbacks: If you want to display comments and trackbacks on your posts and pages, then check the option to be shown
Content Archives: In a content archives box you have a preference to display the post excerpts or the post content. If you have decided to display post content, then you can limit the content to a certain number of characters. You can also include Featured Image and select the desired dimensions from the Featured Image to display. In a content archive page you are offered an option to set your preferred page navigation: Previous/Next or Numeric.
Blog Page Template: In a blog page template, you have choice to select specific categories and can set the number of posts to display.
Header and Footer Scripts: This section is basically to enter custom scripts like for example, Google Analytics code, Facebook script etc.
1.
Existing Customer:
If you are already a customer then you can directly buy by logging into your account.
2.
New to Genesis Framework:
You have to buy both
Genesis Framework as well as child theme
.
Combinedly
you can get it in reduced price
3.
Fan of Studiopress:
Get all
StudioPress Pro Plus Theme Package
in an unbelievable price. The whole package includes Genesis Framework too.
With a purchase of
StudioPress
, you will get lifetime updates and support.
Online publishing with style has never been so easy than with the bright, professional StudioPress Executive Pro theme and, the amazing flexibility and Executive Pro Theme Review clearly select as the winner upon other WordPress Business Theme.