Got bored with your current static sidebar? Want to replace it with your own custom sidebar?
I have come up with a list of best WordPress Custom Sidebar plugin that will help you create your own customized sidebar.
Sidebars can be  interesting and it is an important part of any WordPress theme provided they are not the same static sidebar with every post or pages. Ideally, we want that each post or pages should have  a different sidebar that exhibits the relativity and similarity.
As per individual preferences, one would want to implement custom sidebar accordingly. So,the WordPress Custom Sidebar plugin basically helps you to replace your current sidebar with a new one.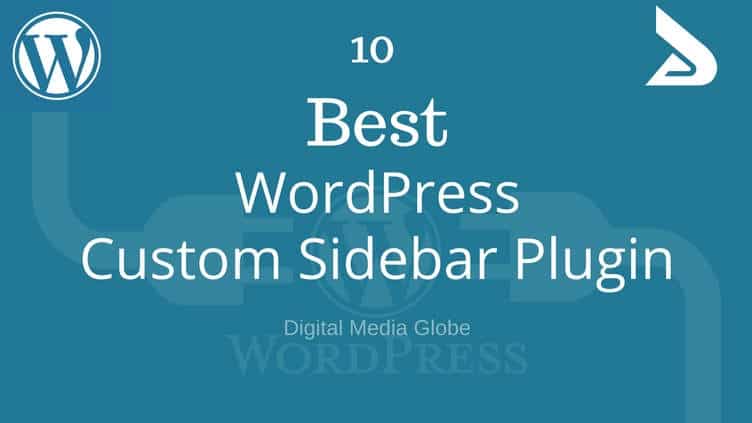 With so many Plugin options, you can monetize the sidebar, control the visibility option, define the specific post and  page, category or archive page with a sidebar.
There are ample options of  custom sidebar plugin for WordPress but I have selected the most important ones which will solve your basic as well as advanced needs.
WordPress Custom Sidebar Plugin
Find below the important list of WordPress Custom Sidebar plugin along with their features and compatibility.
Sidebar & Widget Manager for WordPress
You have the flexibility to replace existing theme sidebars with custom ones and also have your own vertical and horizontal widget alignment. You can control the visibility of your widget and also add your own sidebars by using grid manager (In-build component to add sidebars)
You can build your own unique page layout by adding widget on pages. The adding of widget is very flexible and responsive to your page layout. You won't require any coding knowledge and its very fun to implement.
You have other option too, like copy the sidebar's shortcode and paste it in a page or post wherever required. You can even insert it from WYSIWYG edior.
This WordPress Custom Sidebar plugin fits well into your core WordPress design and optimize performance. This plugin was supported by WPML plugin, WooCommerce, bbPress, and Buddypress. You can display custom sidebar and widget based on user roles.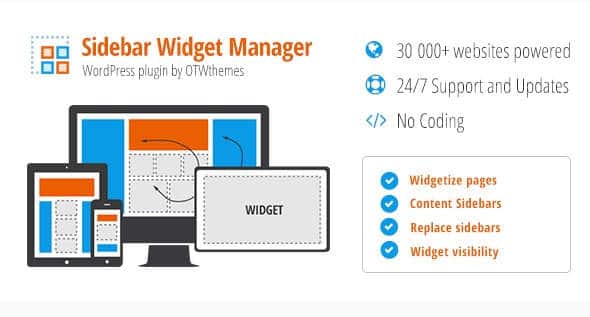 Custom Sidebar
If you are very selective in widgets display on each page or post of your website, then definitely this WordPress custom sidebar plugin won't disappoint you.
As we all know, that the sidebar screen area in a WordPress blog are very limited, and you wish to have all your favourite widget in a single sidebar; this won't be possible!
Custom Sidebars plugin comes with a functionality to have separate custom sidebar on each of your page, post, category, post type or even in archive page.
Each custom sidebar you can configure as per your requirement and it seamlessly get integrated with your widgets.
Once configured you can easily control or update your setting.
Exactly, what you can do with Custom Sidebars plugin?
You can set the visibility of your individual widgets. The widget can be configured as per user role, post type, categories or even more.
You can configure to display custom sidebar for each of your author.
You have the ability to edit complex configuration, clone and sync widget setting.
You can even import and export your custom sidebars, backup and share sidebars.
This type of WordPress custom sidebars plugin is grest for targeted audience, membership site or to clean up your bloated content on each page.

Custom Sidebar Manager
Custom Sidebar Manager is an easy and powerful WordPress custom sidebar plugin for managing your sidebars as well as widgets.
The whole concept of Customer Sidebar Manager lies on adding a new custom sidebar, apply conditional logic for both custom sidebar and widgets separately and at last, manage and control your whole sidebars and widgets.
What makes Custom Sidebar Manager a unique plugin?
The placement of sidebars plays a great role and where the Custom Sidebar Manager stand out from the rest. With the help of this WordPress custom sidebar plugin, you can create your own global sidebar.
You can even have more specific sidebars: One for your blog, one for your page, one for your portfolio. You can create even more specific by applying conditional logic.
No limitation – you can create as many sidebars you want, apply different rule and option for each sidebars.
Easy to apply condition logic for both sidebars and widget. You can have condition logic for both the sidebars and the widgets.
Custom Sidebar Manager supports multiple language (WPML) . So, you can create conditional logic based on the language you prefer.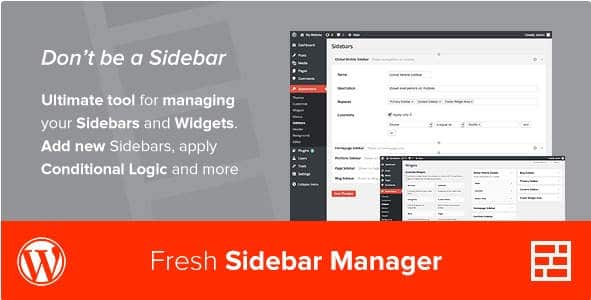 Custom Sidebar Visual Editor WordPress Plugin
Custom Sidebar Visual Editor WordPress Plugin is yet another ultimate option for WordPress custom sidebar plugin. You can use this plugin to create and display dynamically custom sidebars on posts and pages.
You can easily configure unlimited custom widget and replace whole sidebars for specific posts and pages.
This plugin also come with Visual Composer or WordPress editor to override sidebars. With the help of Visual Composer, you can easily add contacts, Maps to video player and use free HTML editor.
Another unique features of Custom Sidebar Visual Editor WordPress plugin is that it's build-in 40+ short codes or custom add-on to create sidebars.
It also has the facility of an Export and Import tool to help you migrate your custom sidebars between different websites. You can even backup your export to secure from any mishappenings.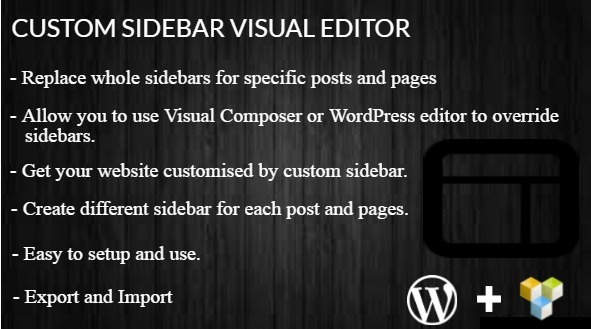 Custom Widget Areas for WordPress
Have you ever thought of a Widget inside your content? This WordPress custom sidebar plugin claims to do so in a very easy way. Along with that, you can create unlimited number of sidebars and assign it to different pages and posts.
It also comes with a feature of custom widget area, define your own widget area and assign a different sidebar to it. The plugin can easily recognizes your themes default sidebars and allows you to replace it with new sidebars.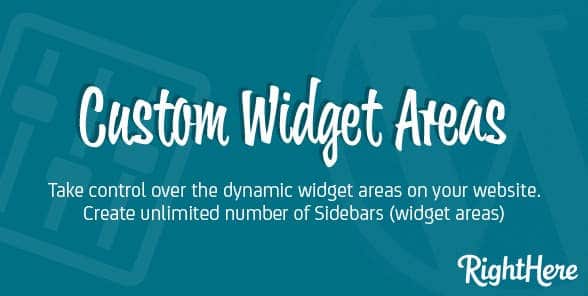 Kakapo – Custom Sidebar for every page
Kakapo – Custom Sidebar plugin is a good to manage custom sidebar for every page. You can easily manage through WordPress admin panel and allocate a new custom sidebar for a separate page.
Their is also no limitation for the number of sidebars. This WordPress custom sidebar plugin allows you to choose from existing sidebars or you can create a new sidebar while creating a new page.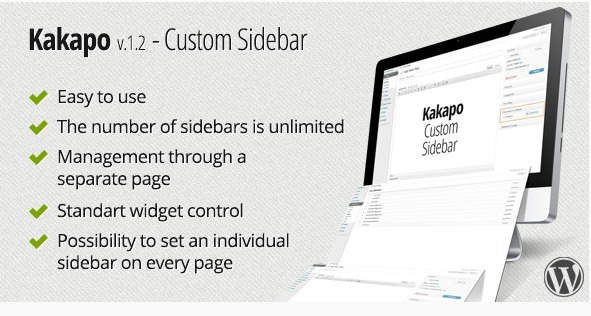 Content Aware Sidebar
Content Aware Sidebar plugin is one of the best WordPress Custom Sidebar plugin which has most of the functionality unlike others, like replacing existing sidebar, apply condition logic and set the visibility of the sidebars.
What is unique about Content Aware Sidebar?
The Content Aware Sidebar has some unique features: Merge and replace theme sidebars, draft and schedule sidebars for later publishing, enhanced widget manager.
You can even select existing one or create your own sidebar while editing a post. You can select sidebar visibility for all or logged in users. The content aware sidebar also facilitate with short codes to display custom sidebars anywhere in your content.

Easy Custom Sidebars
If you want a simple and an easy custom sidebar, Easy Custom Sidebar is a good option. This WordPress Custom Sidebar plugin integrates with the WordPress Customizer very easily and is compatible with any theme.
You can use this plugin to replace your current sidebar to a new one and manage the placement of custom sidebar in your theme.
Easy Custom Sidebars plugin doesn't have much advanced feature like others which we have discussed before, but if you don't require for your blog, this plugin is would suffice..

Single page Sidebars
Simple Page Sidebars is yet another WordPress Custom Sidebar plugin which was designed by keeping in mind the simplicity and flexibility. The aim of the core functionality is to ease the integration without polluting your admin panel.
The best part of Simple page sidebars plugin is it utilizes the built-in WordPress cache functionality, so your WordPress website won't be bogged down with additional queries.
In contrast to some of the other complicated plugin, this WordPress Custom Sidebar plugin keeps every thing simple and easy without making any changes to your core WordPress template.
Moreover, you can even assign or edit in bulk edit modes that will help you to save so much time in managing multiple sidebars. Additionally, you can transfer you existing widget from one sidebar to another.

Stag Custom Sidebars
Stag Custom Sidebars is another WordPress custom sidebar plugin that helps you to create new custom dynamic sidebar and you can use it anywhere with short code.
This plugin is compatible with Widget Importer & Exporter plugin which give you the ability to import or export your widget from one website to another.
You can display your widget anywhere by using the short code that is visible in the description area of the respective widget area.

So, these are my top 10 best WordPress Custom Sidebar plugin.
Do you know any other interesting WordPress Custom Sidebar plugin? Would love to know in the comments section.