What is investing all about?
Investing is a way of putting your capital or assets to use and reap a profit out of it.
The core of any type of investing is the ROI (return of investment) factor and to secure the financial future of an individual.
The value investing can be either high risk or low risk depending upon where you are investing your money into.
Some of the common methods of investments are stocks, bonds, mutual funds, real estate, fixed deposits, options and derivatives, commodities, etc.
You can manage your own investment portfolio or allow wealth managers to manage your assets with a % of service fee.
In case you want to start by your own, there are several online investing courses out there to help you master investing in the highly fluctuating financial markets.
Also, these are considered best online investing courses by students reviews and feedbacks.
8 Top Investing Courses Online – Most Popular Choices
One of the best online investing courses at Coursera that will help you gain in- depth insights on the great world of investments!
The course has got such impressive feedbacks from students who had enrolledpreviously . You can read reviews here.
If you are new to Coursera, sign up with their 7 days free trial option.
If you are an old user, then audit the course for free to get access to course videos and readings without the quizzes and graded assignments.
Course ratings: 4.7+ from 438+ students
Already Enrolled: 15,869
Skills Gained: Stock, Finance, Investment Strategy and Investment
Key learning's from the Course:
Fundamentals of portfolio formation
What are the trade offs between risk and return
Portfolio formation with real life examples and how to calculate expected return and standard deviation in Excel
Understand Separation Theorem of Investments and its implications in real world
How to use regression analysis to know the performance of assets like stocks, etc
Evaluation of assets using CAPM (Capital Asset Pricing Model) and 3-Factor Model
What is market efficiency and its implications in patterns of stocks return and in asset management industry
How to estimate and interpret the alpha and Beta of a security
Understand market multiples and income approaches with respect to firm and stock valuation
Conduct specific examples of market multiples valuation and a discounted cash flow valuation
Course Reviews:

The complete online investing course at Udmey is apt to learn key concepts and best practices when investing in stocks.
The course author is a successful long term investor who has built a million dollar investment portfolio for himself.
Since you are enrolling to this course through Udemy, you get lifetime access to the course, quizzes, online forum to indulge in Q&A with the instructor and 30 days money back guarantee if you didn't like the course.
Course ratings: 4.4+ from 7,545+ students
Already Enrolled:  49,145
Skills Gained: Stocks, Mutual Funds, Stock Investor, Investment Portfolio and Day trading
Key learning's from the Course:
What are stocks and how much is the earning potential in this market
Learn about Stock categorization
How to determine your personal risk profile
Use standard deviation and beta to determine the risk and volatility of stocks
Type of stocks to buy: Individual stocks, stock mutual funds, exchange traded funds, etc
Stock investing strategies: Value Investing, Growth Investing, Dividend Investing and GARP
Stock Evaluation using qualitative and quantitative analysis
Determine whether a stock is a good choice to buy using financial ratios
Free Demonstration of basic and advanced stock screeners
The thought process of the instructor and how he evaluates different stocks
The actual mechanics behind buying a stock
How to place stock orders : market orders and stop loss orders
Strategies to take advantage of Unusual situations : IPO, Stock splits, Stock buybacks, etc
Course Reviews: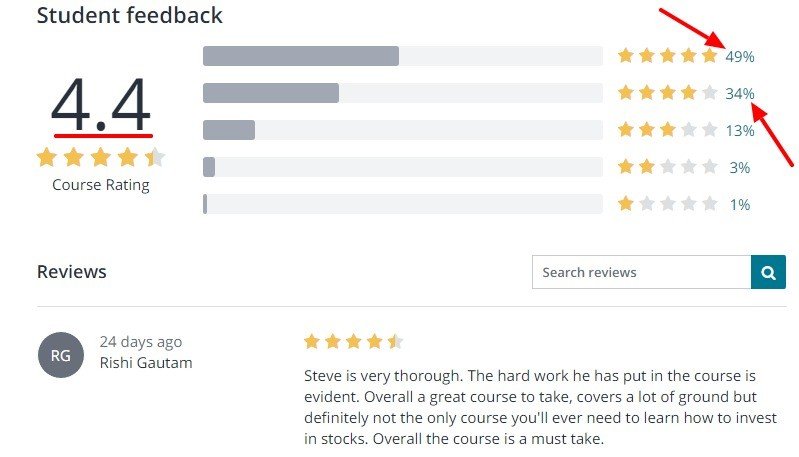 The online investing course teaches how to make wise investment decisions and make 15- 25% annual return from these investments.
The course author pitches how his value investing strategy works and how this strategy will help an individual build his/her long term wealth.
Course ratings: 4.3+ from 783+ students
Already Enrolled: 5,393
Skills Gained: Stocks, Investing strategy, Financial Statement Analysis and Company Valuation
Key learning's from the Course:
Generate passive income online from Stock Market
Use copy & paste investing strategy to see annual returns
How to pick high earning potential stocks
Analyse company's annual reports and financial statements
Access a company's financial capacity
Evaluate a company's future prospects
Calculate a company's intrinsic value
Determine when to buy and when to sell stocks
Build a low- risk wealth building investment portfolio
Diversify your money to reduce risks on your investment portfolio
Minimize the risks on your investments and maximize your profits
Protect your money and build long term wealth
Course Reviews: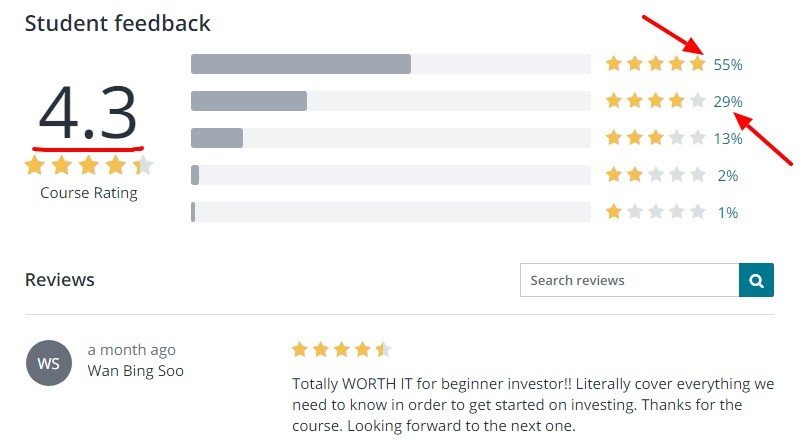 This online investment and venture capital course at Coursera can be a great starter course for investors.
It provides an excellent overview (Both technical and practical) of the world of private equity and venture capital.
Offered by University of Bocconi, the course is popular and has seen more than 50 thousand plus enrollments.
Course ratings: 4.8+ from 2,271+ students
Already Enrolled: 52,034
Skills Gained: Valuation, Venture Capital, Venture Capital Financing and Private Equity
Key learning's from the Course:
Introduction to private equity and venture capital
Discovering private equity investors: Legal issues and taxation
How to manage private equity and venture capital funds
Company valuation and deal making in private equity settings
Course Reviews:

This is one of the best online investing course to learn stock investing from a beginners stand point, understand and analyse company's financial statements and how to perform technical analysis.
The course is regularly updated with new content and recently they have included introduction to Options as well.
Course ratings: 4.5+ from 586+ students
Already Enrolled: 3,480
Skills Gained: Stock trading, Investing, Fundamental Analysis, Financial Market and Option Basics
Key learning's from the Course:
Get started as a beginner in stock market as a investor
Understand financial statements of companies whose stocks you wish to buy
Analyse financial statements using ratio analysis and common size analysis
Learn top ration for investing: Activity ratios, liquidity ratios, solvency ratios and financial ratios
Learn Benjamin Graham's value investing strategy
How to identify undervalued stocks using Graham's number
Apply technical analysis for stock trading
Learn candlesticks pattern for stock trading
Learn GAPs trading, technical indicators and money management tips
Course Reviews: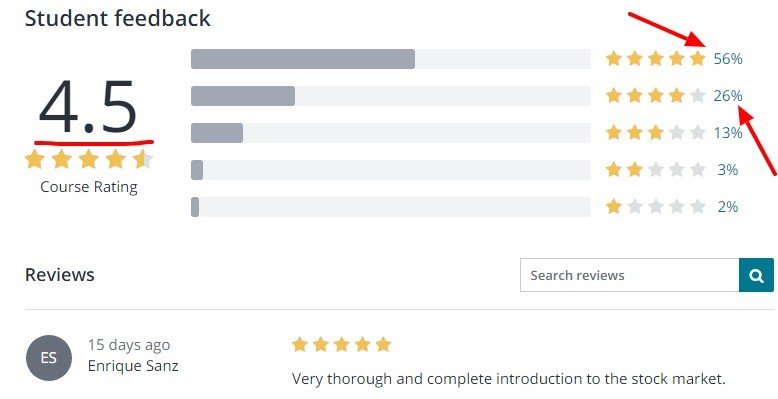 Aimed at beginners, this complete online investing course is designed to help you achieve profits from stocks with their copy and paste investing systems.
The course also talks about exchange traded funds (ETF), how to build your investment portfolio and protect and grow your money wisely and steadily.
Course ratings: 4.3+ from 1,192+ students
Already Enrolled: 8,746
Skills Gained: Passive Income, ETF Investing strategy, Stock Market and Exchange Traded Funds
Key learning's from the Course:
Secrets of stock market and how to generate passive income online
Turn in 10% of your monthly income into passive income
Learn risk free 10% annual return from stock market by using a simple strategy
How to use and invest in exchange traded funds wisely
Invest in stock market sector ETFs and maximise returns
Build a low risk wealth building investment portfolio
Set your financial goal and develop an effective investment plan
How to take advantage of stock market to grow your invested money effectively
Course Reviews:

Offered by University of Geneva, the 5 course specialization throws insights into various investment strategies and how it affects the financial markets in both micro and macro level.
All the Coursera specializations work on a monthly subscription basis.
You can either complete the entire specialization in the course order or pick and choose a particular course to master a certain skill.
You can even audit the courses you want to study for free.
If you want to earn a certificate of completion for this specialization, you have to complete the entire course including the capstone project along with the individual projects and peer graded assignments.
Course Specialization Duration: 4 months
Skills Gained: Investment Management, Risk Management, Financial Markets and Finance
Key learning's from the Specialization:
Understand how investment strategies are designed to reach financial goals in a global context
Global understanding of financial markets and its impacts at micro and macro levels
How to build and manage a client's portfolio
Learn underlying theories that shape the investment management industry
Create a sensible 5-year investment plan
Course Details:
Course 1: Understanding Financial Markets 
Course ratings: 4.7+ from 2,340+ students; Already Enrolled: 57,126
Course 2: Meeting Investor's Goals 
Course ratings: 4.8+ from 975+ students; Already Enrolled: 14,304
Course 3: Portfolio and Risk Management 
Course ratings: 4.7+ from 955+ students; Already Enrolled: 25,454
Course 4: Securing Investment Returns in the Long Run 
Course ratings: 4.7+ from 577+ students; Already Enrolled: 12,702
Course 5: Planning Your Client's Wealth Over a 5-year Horizon 
Course ratings: 4.7+ from 203+ students; Already Enrolled: 1,610
Course Reviews:

Let us know in the comments sections what are your best online investing courses for learning?