What is Financial Analyst all about?
The work of a financial analyst involves core financial planning and analysis (FP&A) of a company financial fiscal data.
Means, they help company in making better investment decisions.
Financial analyst who works for investment banks are often called as equity analyst and works mainly on financial modeling and forecasting aspects.
They are driving factors for the financial growth and performance of a company by developing financial models.
A financial analyst closely follows the current market conditions, trends and conducts comparable analysis and market research for financial analysis purposes.
What are the top skills for financial Analyst?
A career in financial analyst is no doubt a very rewarding field.
It is indeed a multi disciplinary field and requires you to have much more skills sets than average finance professionals possess.
You are required to be:
Good at accounting
In-depth understanding of how corporate finance works
Mathematical and statistical skills
Quantitative and logical skills
Strong analytical and data analysis skills
Working knowledge of basic and advanced MS Excel and spreadsheets
Broad understanding of Financial markets in general
Interpersonal and communication skills
Proficient in financial modelling techniques
How I do become a financial Analyst (with no experience)?
Financial analysts mostly work for financial services industries such as banks, investment firms (both buy side and sell side), insurance sector, equity capital markets, venture capital firms, private wealth management, real estate brokerage company, kpo's etc.
You may become eligible for an entry level financial analyst position if you come from an academic background (bachelor's or master's degree) in accounting, finance/business, math/statistics, economics, etc.
But just completing a degree in finance field won't land you a job as a financial analyst as companies expect some experience in this field before hiring.
Getting a financial analyst certification online or enrolling to financial analyst training program online are great ways to perform well in interviews and get an entry level financial analyst job without experience.
You can also build professional networks in LinkedIn to get new job leads and better connections within the industry.
Note: Though CFA (chartered financial analyst) is the best certification for financial analyst, it is grueling and difficult to clear as a fresher. Also, there are strict eligibility criteria's in terms of education and experience to qualify the test.
For anybody looking to learn financial analyst training online, we have listed the best courses for financial analysts online based on cost flexibility, reviews and feedbacks.
5 Best Online Courses on Financial Analyst – Most Popular Choices
This is hands down the best course for financial analyst you can find online.
The course is immensely popular and has seen more than one lakh enrollments, consistent good rating and feedbacks from previously enrolled students.
Since the course is hosted on Udemy platform, you get 30 days money back guarantee, full life time access and a certificate of completion.
The course is regularly updated with new content, course challenges, quizzes, case studies and 400 plus downloadable resources for future reference.
It has around 300 plus lectures and covers almost all core skills needed to become a financial analyst: Microsoft Excel, Accounting, financial statements and financial ratios, finance basics, business analysts, capital budgeting and Microsoft PowerPoint.
Course ratings: 4.5+ from 16,421+ students
Already enrolled: 109,886 students
Skills Gained: MS Excel, MS PowerPoint, Financial ratios, Accounting and Financial Statement Analysis
Key learning's from the Course:
How to work with large amounts of data in MS Excel and MS PowerPoint
Build a company's profit and loss statements from scratch
Perform Financial statement analysis
Know calculation for company performance valuation: Liquidity, solvency, profitability and growth ratios
Check project feasibility using NPV technique and understand the difference between variable and fixed interest rates
Learn spreadsheet formatting and how to create professional chars in MS Excel
What is accounting and principles of bookkeeping
Build a company's balance sheet from scratch
The importance of timing with respect to revenue and cost recognition
Calculate complete loan schedule
Understand what 10-K reports are
Perform industry and business analysis
Course Reviews: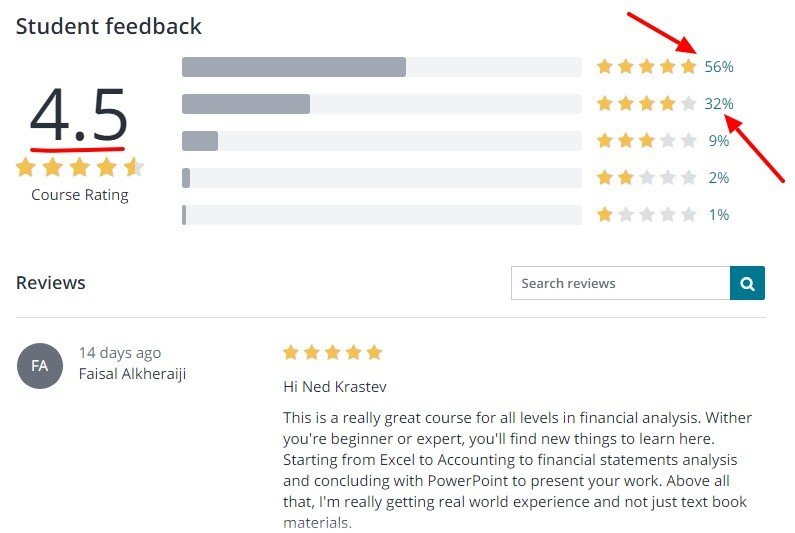 This is the most comprehensive certified financial analysts training course you can find at Udemy.
The author discusses 14 important finance roles in a Bootcamp style with an extensively lengthy video content.
More importantly, the course gives you a thorough overview of all core roles of financial analysts in the finance world.
You can go through the feedback sections to get a taste of how good both the content and author are quality wise.
Course ratings: 4.5+ from 6,718+ students
Already Enrolled: 48,033
Skills Gained: MS Excel, Financial Models, Risk management, Company Valuation and Technical analysis
Key learning's from the Course:
Become an expert in MS Excel
How to select stocks, manage portfolios, build financial models and how risk management works
What is company valuation, how to use technical analysis and how a company evolves into IPO.
Calculate valuation methodologies in Excel using P/E, P/R and DCF models
Create Financial statements in Excel from scratch
How monetary and fiscal policy works
Insights into venture capital, mutual fund and hedge fund investment ideas
Strategies to understand optimum timings to buy or sell stocks
Analyse and understand income statement, balance sheet and income statements and how to create useful financial models out of it.
How to use different valuation methodologies to pick target prices
Learn about 14 different core financial analyst job profiles: Investment banking, Venture Capital, Private Equity, Private wealth management, sell side research analyst, equity capital markets, etc.
Course Reviews: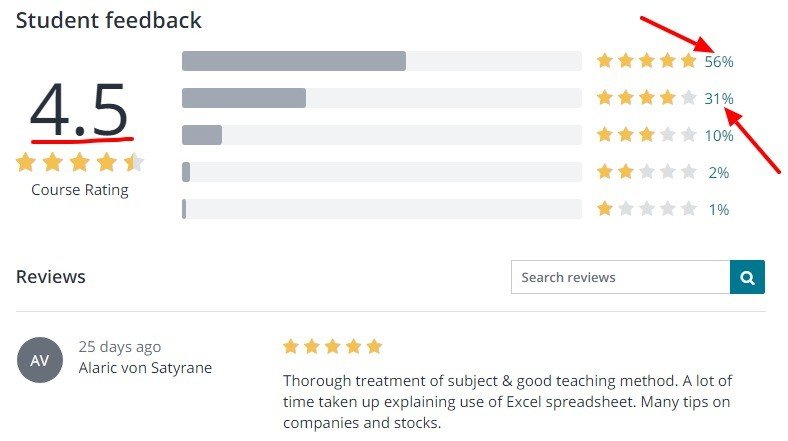 Coursera is a popular MOOC platform that partner's with world class universities to bring a series of course in the form of specialization to master a skill.
This is a highly popular specialization from Penn university and has a total of 5 courses and lays foundational knowledge to modeling techniques, investment analysis, company valuation, forecasting, etc.
If you are new to Coursera, sign up with their 7 days free trial option.
If you are an old user, then audit either the entire specialization or individual course for free and get access to course videos and readings without the quizzes and graded assignments.
If you want to attempt projects and earn a certificate of completion, then you need to get enrolled into their monthly subscription pricing model.
Course Specialization Duration: 2 months
Skills Gained: Financial Modeling, Microsoft Excel, Simulation and Linear Programming
Key learning's from the Specialization:
Create your own quantitative models
How to use spreadsheets to map and predict data
Structure your decision making for optimum results
Understand the measurement and risk management associated with informed business and financial decisions
Course Details:

Course 1: Fundamentals of Quantitative Modeling 
Course ratings: 4.6+ from 3,698+ students; Already Enrolled: 80,438
Course 2: Introduction to Spreadsheets and Models 
Course ratings: 4.2+ from 2,027+ students; Already Enrolled: 61,042
Course ratings: 4.6+ from 1,359+ students; Already Enrolled: 28,837
Course 4: Decision-Making and Scenarios 
Course ratings: 4.6+ from 1,035+ students; Already Enrolled: 24,129
Course 5: Wharton Business and Financial Modeling Capstone 
Course ratings: 4.6+ from 307+ students; Already Enrolled: 2,970
Course Reviews:
If you are looking for certified financial analysts courses online and pass CFA Level I exam, this CFA prep course at Udemy is worth looking into.
Also, the ratings and feedbacks have been so far good.
The course helps you master financial reporting and analysis which accounts for most marks in the CFA level 1 exam.
Course ratings: 4.5+ from 939+ students
Already Enrolled: 6,123
Key learning's from the Course:
Classify various financial statements : assets, liabilities, equity, revenue and expenses
Understand basic and advanced accounting equations
Roles of standard setting bodies and regulatory authorities
What is an IFRS framework
Identify key differences between IFRS and US GAAP
How to calculate depreciation, COGS, inventory under different cost flow assumptions, basic and diluted EPS
Understand how various balance sheets are valued and represented
How to calculate financial ratios and make inferences through the ratios
Construct cash flow statements using either direct or indirect method
Application of various tools and techniques used in financial analysis
What are the different cost flow methods and how to calculate COGS, ending inventory and gross profit
How to apply analytical methods to forecast future earnings and cash flows
Course Reviews: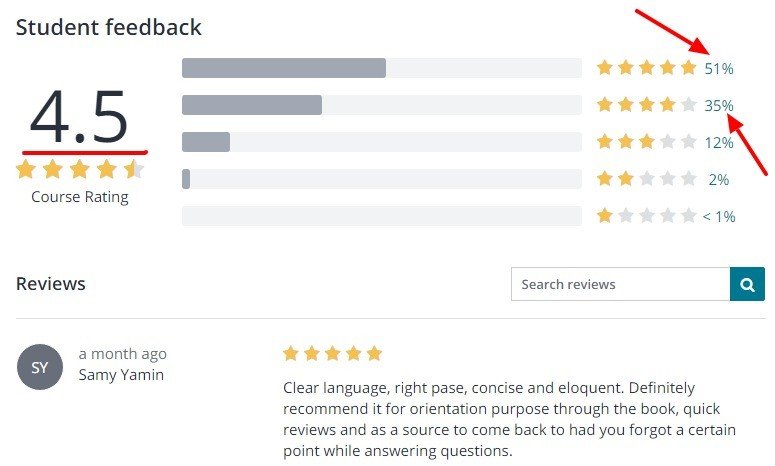 Course ratings: 4.5+ from 332+ students
Already Enrolled: 2,655
Skills Gained: Excel, accounting, financial statement analysis, forecasting and Business Valuation
Key learning's from the Course:
Basic excel functions to analyse large data
Basics of financial accounting statements
Financial performance analysis of companies
Forecasting an integrated financial model
Conceptual understanding of DCF valuation technique
Step by step illustration of DCF model
Understand the multiples based valuation technique and how to apply them
Learn advanced excel functions to analyse large data
Course Reviews: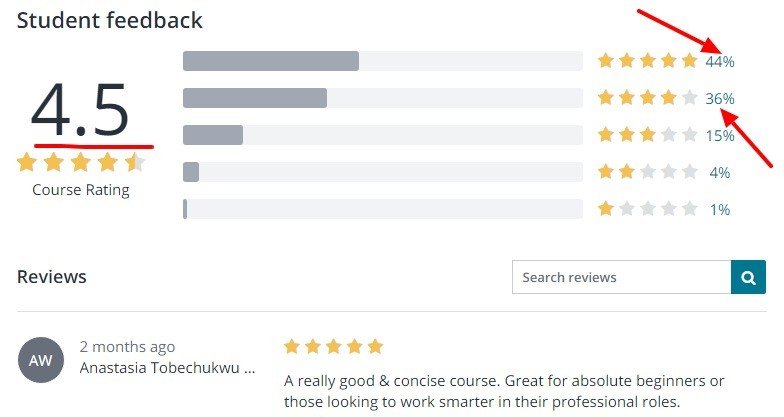 Let us know in the comments sections what are your best courses for financial analyst to learn online?