If you're like me, you have tried more than a few hosting providers for your websites. It's about finding that magic mix of reliability, good price and customer service.
Well, I can happily say I am glad I found Arvixe. They're not perfect and they're probably not the best hosting company in the world, but what they offer, they deliver for sure.
Arvixe is one of the most feature rich hosting providers with a wide range of option to choose at an affordable price. Arvixe comes with an almost all hosting plans such as shared hosting, business hosting, reseller hosting, VPS and dedicated hosting, based on both Linux and Window platforms.
Arvixe price range start form $4/month or $7/month based on what platform you choose, Linux or Window.
Let's dive into a detailed Arvixe Review, which would be helpful to derive the final conclusion.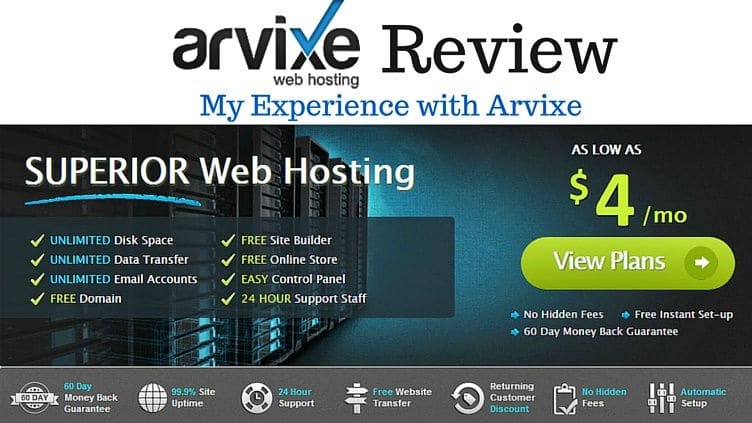 Arvixe Review
My Arvixe Review will focus more on Uptime, Customer support, Free domain ,Website builder, and technical stuff followed by pros and cons of Arvixe web hosting.
Arvixe Promo Code – 20% OFF – "DigitalMediaGlobe"
FREE Domain For LifeTime
Yes, It's true.With every hosting packages, you'll get a free domain for life. That's the biggest strength of Arvixe, which makes them different from other hosting providers.
As long as you renew your hosting packages, your domain also gets renewed automatically for free of charge.
But, the offer is valid only for .com, .net, .biz, .org, .US and .info domain.
In order to solve your doubts, I've arranged some FAQ below about "Free Domain Name for Life"
Will the domain be under my name or Arvixe?
100% the domain would be yours, in your name and in your control. If you wish to transfer the domain away from Arvixe, you can do it any time and it's totally up to you. You can even control all your domain related information from your control panel such as DNS server information, contact information, and domain lock information.
What happens if I no longer wish to continue with Arvixe for web hosting?
If you no longer want to continue with Arvixe, no problem, your domain will still be yours. But, the cost for the domain will be back to normal pricing, which is $9.95/year.
Will the "Free domain name for life" work with domain transfer?
Yes! They will transfer the domain for free and also renew the domain for free as long you're hosting with them.
How will they know when to renew the domain name?
The renew of domain name is done with the renew of Hosting packages. So, either you want to renew the Hosting services manually or automatically is up to you.
Hope the above FAQ clears most of your doubt if you plan to opt Arvixe web hosting service.
Uptime Review
Uptime is the first thing I check on a hosting provider. I know there's been talk lately about Arvixe's downtime and everyone will have a different opinion, but I can honestly tell you my site has been up all the time.
Yes, there was a merger in 2015 and a lot of data centers had to be moved and some people did have issues, but that was months ago.
I didn't have any issues with my site or email on any of my websites or my clients. I guess there were some really unlucky people whose sites were down for a little while, but now I don't think you should be worried about Arvixe's uptime.
MY GRADE: 4/5 I haven't had a problem, but some people have, so I'm being fair
Free Website Builder
Building a website would be an easy task for you with RVSiteBuilder. A freebie with Arvixe hosting packages.
When you'll first encounter with this Arvixe Website builder, you'll be prompted to enter a site name, essential pages with categories and then you're good to go.
You'll find Arvixe site builder having an easy user interface and is less overwhelming compared to 1and1 site builder. An easy drag and drop features with free templates keeps Arvixe web hosting an edge over Dreamhost.
Still, I find GoDaddy Site builder to be more flexible compared to Arvixe site builder, but it'll cost you $1/month.
Customer Support & Service
Once I purchased the service, I didn't have to contact support for anything, but I know my way around.
However, they were able to help me with a problem I was having with my credit card.
I had to wait no more than a minute or two to chat with someone who was able to figure it out. Also, you can call them 24/7 for any issues you may have.
MY GRADE: 5/5 I haven't had to contact them for an issue, but I see good help systems in place, so that makes me happy
Arvixe Hosting Plan
Arvixe gives you 5 options to pick from depending on what you need. I choose the first option, Personal Class. They gave me a free domain for life, as long as I stay with Arvixe.
The first tier is called 'Personal Class' and it's the usual shared server type of service.
You get to host up to 6 websites in one account, unless you upgrade to 'Personal Class Pro', for a few more bucks a month. When I got it, it was $4/month for the regular type and $7/month for the Pro option.
Next tier is 'Business Class', and the difference is you share servers with less people and you get your SSL certificate included in the price. $20 something a month.
The other 3 options they have are Reseller plan (which I am interested in for the future), VPS and Dedicated Hosting.
I'm having a good experience with the lowest plan, so I imagine their bigger plans are good too.
MY GRADE: 5/5. Their price is right around the ballpark for shared servers and I feel I'm getting a good return on my investment.
Arvixe Promo Code – 20% OFF – "DigitalMediaGlobe"
Arvixe Hosting Price
As I said before, their price for Shared Hosting is about the same as everyone else.
I felt the Business Hosting tier was a little over my budget and I didn't need it at the time, but if I need an SSL certificate, I'll probably upgrade my service.
They surprised me when my site got transferred to Arvixe for free.
You can always look for discounts with their referral sites and save some bucks before buying their hosting plans.
Another thing I like is their 60-day money back guarantee (Fair enough). They say it's no questions asked. Also, they take all major cards and Paypal.
MY GRADE: 4/5 Only because I would have paid for the Business Service if it was a few dollars less a month.
Shared Hosting – LINUX

Shared Hosting – WINDOW

Business Hosting – LINUX

Business Hosting – WINDOW

VPS – LINUX

VPS – WINDOW

Arvixe Tech Stuff
Something cool about Arvixe is you get to choose if you want a Linux or a Window server for your account. I know the jury is still out on who's better (cough… Linux… cough…), but it's entirely up to you.
In any case, you get Cpanel for your server.Other than that, they have the usual stuff. Softaculous Script Installer, unlimited domain aliases, subdomains and FTP accounts.
I also noticed they use PHP5 and MySQL5, which is already an improvement from my past server.
As far as email goes, they opened up ports 26 and 587 for outgoing messages, which is nice, considering some ISPs keep blocking port 25.
Another cool thing I noticed is they have a DDoS mitigation service. I hope I never need it, but it's nice to know it's there.
MY GRADE: 5/5 Everything looks like it should look.
What you'll like about Arvixe Hosting?
Multiple Upgrading Options
Arvixe comes with wide array of hosting plan such as Shared, Business, VPS, and Dedicated hosting
Arvixe has an in-build website builder, free to use, known as RVSitebuilder
60 Days Money Back Guarantee
With 60 days money back guarantee you would be more secure and free compared to industry standard 30 days guarantee
Free Domain Name (Till you use their service)
That's make Arvixe to stand out from their competitors, who mostly provide domain free for one year.
Arvixe has many valuable addons such CloudFlare CDN integration, Softaculous script installer, Ruby on Rails, Daily BackUp, Attacta SEO Ready, Siteapps and many more.
Where Arvixe fails?
Arvixe starting price is more expensive compared to other competitors.
Not Truly a Unlimited Hosting
What you think of unlimited hosting is not truly a unlimited hosting; it is only unlimited until you overuse the Arvixe CPU. It means, it allow usage up to 700 CPU seconds, 2000 MB of RAM and 500 physical process.
Arvixe Promo Code – 20% OFF – "DigitalMediaGlobe"
CONCLUSION
There are hundreds of hosting options available and it gets harder and harder to pick the best one. I can't tell you this is your best option, but it's been the best option for me. Arvixe works for me and it can work for you.
Base on my experience, I would give Arvixe a 4.5/5.
I feel like I'm in a good hosting company that's been around for years. The price is right (especially if you find a referral discount), the server capabilities fit my needs and there's plenty of room to grow with them.
Although I didn't need their customer service much (which is great service, to begin with!) the little I needed was solved with no hassle. I like knowing I can call them 24/7 if I ever need help. I'm sure a lot of people will appreciate that.
Finally, a word about uptime. Like I said, it is true some people had issues but I didn't. Like with everything, you can have the best product in the world and ask 100 people and there will always be 1 person who didn't have a good experience.
I'm glad I wasn't the one and I'd be surprised if you have a bad experience.