Registry Editor is one of the most important tool of Windows 10 to resolve most of the issues. But, it may happen sometimes due to some bugs or mishap that you are not able to access Registry Editor in Windows 10.
Although these type of cases occur very rarely,  but if it happens, you need to know how to overcome this error.
Also, when  you can't access Registry Editor in Windows 10, you may loose the privilege of controlling your system entirely.
So, in this article, we will look for ways to fix Windows 10 Registry Editor problem.
Firstly, we will perform SFC Scannow commands and in case, if it fails we will try to fix it manually.
Also, we will take the help of Group Policy Editor and at last, we will perform restore function, if every other options fails to solve the issue.
Can't Able to Access Registry Editor in Windows 10
We will discuss each and every fix possibilities one by one and try to resolve access to Registry Editor problem
Fix 1: Perform SFC / scannow Command
SFC scan has been very useful in solving most of the Windows 10 problem. Though, it takes lot of time to perform the scan but it's worth it.
SFC scannow is a utility command of Windows 10 which will scan the entire system and look for corrupt or obsolete files. After the scan, it will detect the corrupt file and repair the issue.
This method is risk free and has been helpful in solving Windows related problem.
Go to start and type in "Command prompt" and click on "Run as administrator". It will open command prompt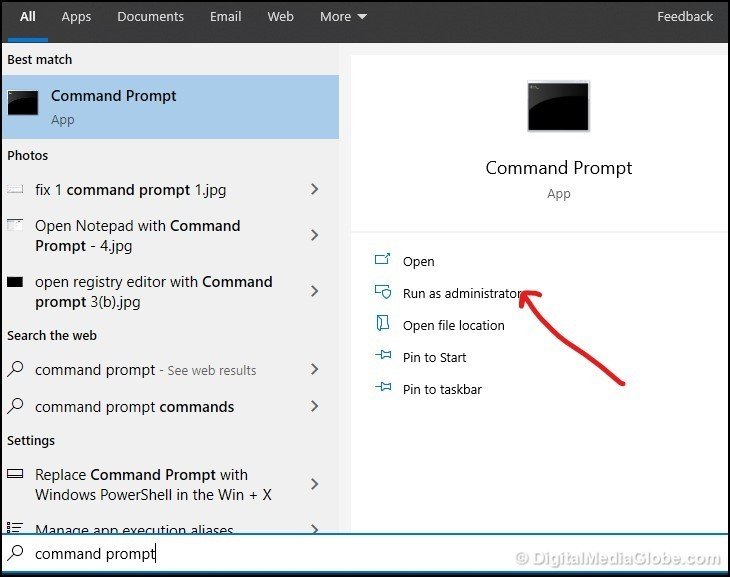 In the command prompt type in "sfc/scannow" and press Enter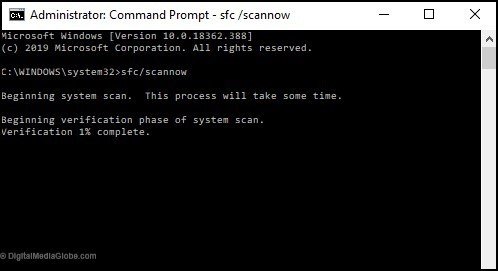 Once the process is completed successfully, you can restart the system to check whether your problem related Registry Editor has been resolved or not.
If you still can't able to fix the problem then go for manual method below.
Fix 2: Manual Process to Enable Registry Editor
In this method you will manually try to resolve this bug
To perform this tweak follow the method below.
 Press Windows key + R, to open the Run
 Type in "REG add HKCUSoftwareMicrosoftWindowsCurrentVersionPoliciesSystem /v DisableRegistryTools /t REG_DWORD /d 0 /f" and press Enter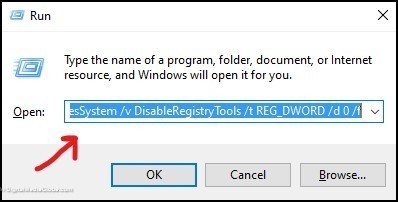 This method will not give any message. You have to restart the system to check whether the problem has been solved or not.
Fix 3: Using Group Policy Editor in Windows 10
Group Policy Editor is not available for all versions of Windows 10. Currently, it is available in Professional, Ultimate and Pro version of Windows 10.
So, if you are using the Windows 10 Home, then this method is not for you.
Group Policy Editor is one of the simple way to enable Registry Editor in Windows 10.
For this follow the method below
 Press Windows key + R to launch Run dialog
Type in gpedit.msc and click OK to open Group Policy Editor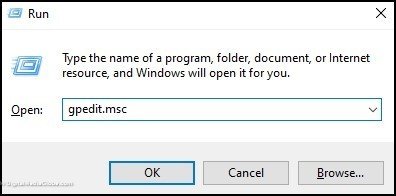 Now you have to navigate to a path User configuration > Administrative Templates > System > Prevent access to registry editing tools and then open it.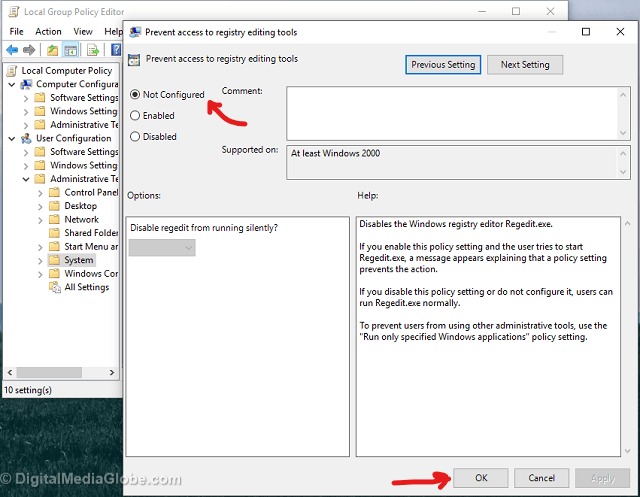 If you find that it has been set to "Enabled", then change it to "Not configured". Afterward, restart your system to see whether it has solved or not.
Fix 4: Restore your Windows 10
Reset your system will completely restore your Windows 10 as a fresh copy and definitely it will resolve the issue of Registry Editor.
Remember, this is the last step you should try. During this method you will loose most of your previous Windows 10 setting you have done earlier. But, you will not loos any files if you opt for option "Keep my files".
For this method, follow the steps below
Press Windows key + I, to open Windows setting and then click on "Update and Security".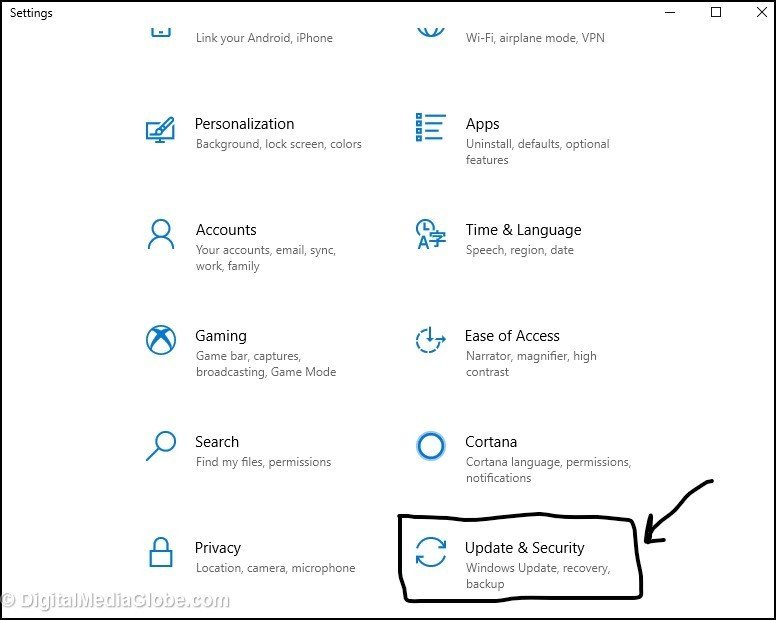 Next, you need to click on "Recovery" from left pane and then click on "Get started" under "Reset this PC"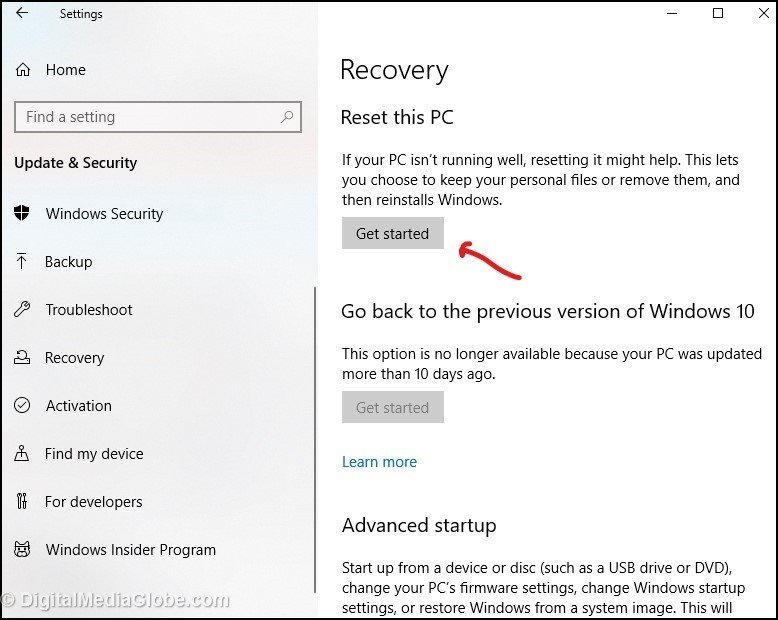 In the next process, select "Keep my files" option and follow on-screen instruction to complete the task.
Most probably the problem related to Registry Editor will get solved by following the above listed method. If problem still persist, you need to consider reinstalling Windows 10.
Reinstalling Windows 10 is an easy process done with the Media Creation Tool. You can follow step by step process and guide to reinstall Windows 10.
Also, we suggest you to do System Restore point before reinstalling fresh Windows 10. System Restore point will backup your important data, file and folder.
Hope, the above method has helped you to resolve the access issues to Registry Editor in Windows 10.
We would like to see whether you have any further concerns related to this issue. If any, please comment below for quick response.